Epic New Poster for 'Iron Man 3': Can It Top 'The Avengers'? — POLL
Since I witnessed final beats of 2012's The Avengers explode across the screen (complete with crazy purple guy from outer space!), I've been fascinated by Marvel's follow-up plans. How do you top the critically acclaimed team-up movie that went on to become the third highest grossing movie of all time?
RELATED: See Ben Kingsley In 'Iron Man 3' … or Is It 'The Dictator 2'? — Poster
We already knew the answer before the movie hit theaters: Iron Man 3. The Robery Downey Jr. solo picture was slated for May 3, 2013, debuting its first footage at San Diego Comic-Con — a mere two months after Avengers. It looked good. It looked really good.
But did it look Avengers good?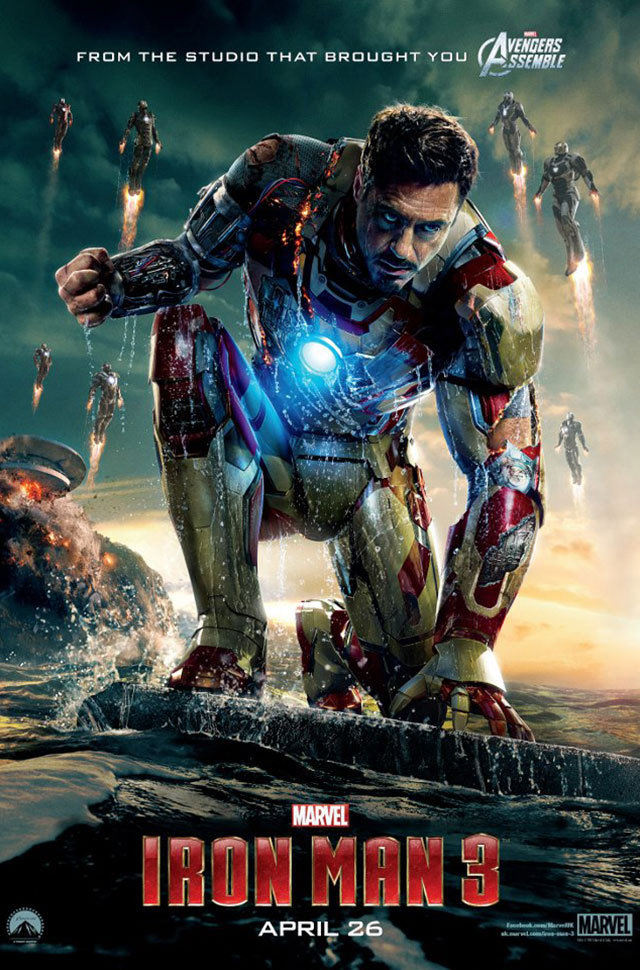 It certainly looked different: instead of going for The Avengers scope, organically created by weaving in Iron Man, Captain America, Thor, and the Hulk into one movie, Iron Man 3 aimed for the personal drama. Written and directed by Shane Black (Kiss Kiss Bang Bang) spoke at SDCC about finding a darker edge for the continuing saga of Tony Stark — which to this skeptic's ears sounded like an undoing of the chaotic madness of Iron Man 2. Black suggested that theory more directly by saying that 3 is more of sequel to Iron Man, bringing back the terrorists who kidnapped Stark in the original and their leader, The Mandarin (played in 3 by Sir Ben Kingsley).
All of Iron Man 3's footage — including the most recent Super Bowl trailer — has spoken to this solution. Don't go bigger than Avengers, go different. Deliver on action, but beat the living crap out of your hero so he can rise back on his own.
RELATED: 'Iron Man 3': Introducing Don Cheadle's Brand New Character — Poster
The new poster (seen above) is the one-sheet translation of that sensibility. Stark appears beaten down, shaken, sporting armor ripped to shreds. Behind him, a fleet of Iron Men, without any indication of whose side they're on. Read: terrifying.
Iron Man 2 was severely lacking in the character department. If Joss Whedon taught the superhero genre one thing from The Avengers, it's that you can never have enough personality. We'll see if Stark is put through the ringer when Iron Man 3 arrives May 3.
Do you think Iron Man 3 can live up to The Avengers? Tell us in the poll!

Follow Matt Patches on Twitter @misterpatches
[Photo Credit: Marvel]
---
From Our Partners:


40 Most Revealing See-Through Red Carpet Looks (Vh1)


33 Child Stars: Where Are They Now? (Celebuzz)