Is Bradley Cooper David O. Russell's Replacement Muse?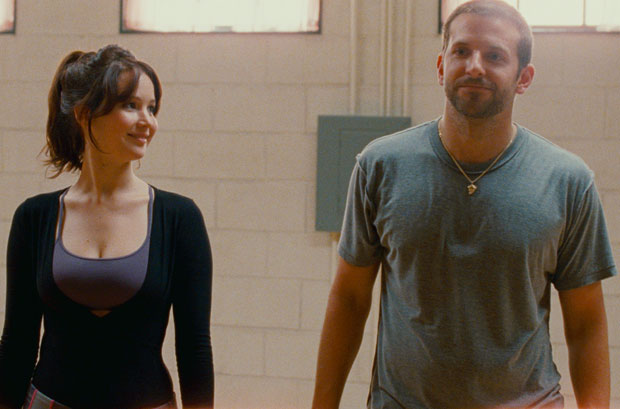 It was 1999, and David O. Russell was new to the industry — he had only directed two films to date, fostering stars like Jeremy Davies (Spanking the Monkey) and Ben Stiller(Flirting with Disaster). And then came Three Kings. The filmmaker's first straight drama, his first pickup by a Big Five production company, is also his first collaboration with Mark Wahlberg: his muse in the making.
Following Three Kings, Russell and Wahlberg partnered on the offbeat comedy I Heart Huckabees and the Oscar-nominated drama biopic The Fighter. And for a while, it was expected that Wahlberg would take the lead in Russell's upcoming romance/dramedy, Silver Linings Playbook. But top-billing in that picture ultimately landed in the hands of Bradley Cooper, whom Russell has cast in his next movie, an untitled project formerly named American Bulls***. On top of this, Russell discussed with The Hollywood Reporter on a desire to work with Cooper on a third film: American Sniper — a property to which Cooper presently has the rights.
So, the days of Russell/Wahlberg might be over. But will Russell's partnership with Cooper really be able to reproduce, or perhaps top, the magic he and his first muse managed in Three Kings, I Heart Huckabees, and the critical/popular topper of the lot, The Fighter?
It's not like it hasn't been done — there have been plenty of directors who have moved from one acting muse to another, for whatever reason, resulting in some fantastic work:
Original Muse: Robert De Niro
Collaborations: Mean Streets, Taxi Driver, New York, New York, Raging Bull, The King of Comedy, Goodfellas, Cape Fear, Mad Dog and Glory, Casino
Replacement Muse: Leonardo DiCaprio
Collaborations: Gangs of New York, The Aviator, The Departed, Shutter Island, The Wolf of Wall Street
Original Muse: Matt Damon
Collaborations: Oceans Eleven, Ocean's Twelve, The Brothers Grimm, Syriana, Ocean's Thirteen, Che, The Informant!, Contagion
Replacement Muse: Channing Tatum
Collaborations: Haywire, Magic Mike, The Bitter Pill
Original Muse: Tarantino has collaborated with several people on multiple occasions — Samuel L. Jackson, Harvey Keitel, Steve Buscemi, Tim Roth — but the director's true original muse is undoubtedly Uma Thurman
Collaborations: Pulp Fiction, the Kill Bill movies
Replacement Muse: Christoph Waltz
Collaborations: Inglourious Basterds, Django Unchained
Original Muse: Diane Keaton
Collaborations: Play It Again, Sam, Sleeper, Love and Death, Annie Hall, Interiors, Manhattan, Radio Days, Manhattan Murder Mystery
Replacement Muses: Diane Wiest, Mia Farrow, Daryl Hannah, Judy Davis, Scarlett Johansson, Penelope Cruz…
Collaborations: Every remaining movie he has ever made
So is it possible? Heck yes. Clearly, Russell has found something in Cooper that inspires him. That's all it takes for two talented people to make magic. I Heart Huckabees-level magic, though? Hard to say…
[Photo Credit: The Weinstein Company]
More:
TIFF 2012: Bradley Cooper, Jennifer Lawrence Give Career Bests in 'Silver Linings Playbook'
Amy Adams in 'American Bulls**t': How Many 'Fighter' People Will This Film Involve?
Bradley Cooper Can't Get Enough of Oscar Winner Russell, Re-teams for 'American Bulls**t'