Jackie Robinson Biopic '42' Looks Appropriately Inspiring — TRAILER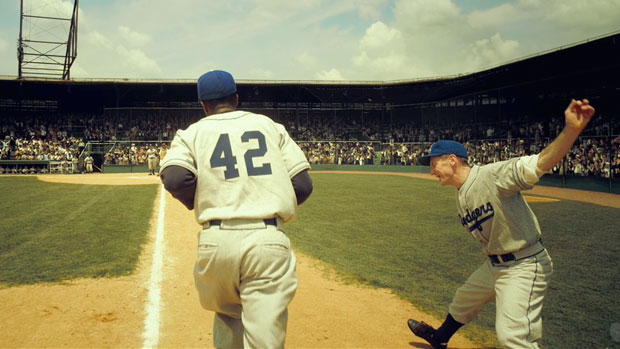 Chadwick Boseman isn't a household name, but if his performance as Jackie Robinson in the upcoming 42 lives up to the film's first trailer, he will be.
Modernized by the thumping beats of Jay-Z's "Brooklyn Go Hard," the period drama stars Boseman as the influential baseball, following the first year Robinson was signed to the Dodgers. As costar John C. McGinley told Hollywood.com in a recent interview, "The script is very smart. It's one year. It's 1947. It's the year baseball was integrated. It's not Jackie Robinson from cradle to the grave. That's too hard … This is one year in a man's life that, in a lot of ways, changed our country." The biopic may not be a sweeping look at Robinson's career, but judging from the first footage, the specific tale lends itself to being just as invigorating and momentous.
Written and directed by Brian Helgeland (Payback, A Knight's Tale), 42 pairs relative newcomer Boseman with a Hollywood legend: Harrison Ford as Major League Baseball executive Branch Rickey. Ford's late career has been primarily composed of action movies (Indiana Jones and the Kingdom of the Crystal Skull, Cowboys & Aliens), but his gruff attitude is nowhere to be found in his portrayal of cigar-chomping Rickey. He's charming and demanding of Robinson. His rapport with Boseman feels appropriately inspiring.
Check out the trailer for 42 below (or in HD at Apple). The movie pop flies to theaters on April 12, 2013.
Follow Matt Patches on Twitter @misterpatches
[Photo Credit: Warner Bros. Pictures]
More:
Eli Manning: His 3 Favorite Sports Movies — EXCLUSIVE
Summer Olympics Forever: 8 Sports Movies to Keep the Spirit Alive