We Don't Want to Take Credit for James Franco's For Your Consideration Ad for 'Spring Breakers,' But…
Way back in the days of yore, when shorts came in different colors and shurikens in different flavors, we met a new kind of James Franco. A James Franco who spouted his 'spicions through grille-plated teeth, cackling maniacally as he danced with the ivories over a Britney Spears sonata. That was when we knew him to be a sure-fire candidate for the Academy Awards. Yes, Franco's turn in Spring Breakers deserved an Oscar for Best Supporting Actor, no doubt. As such, we put together the following Faux Your Consideration ad in celebration of the actor's performance in Harmony Korine's masterful attack on the human condition: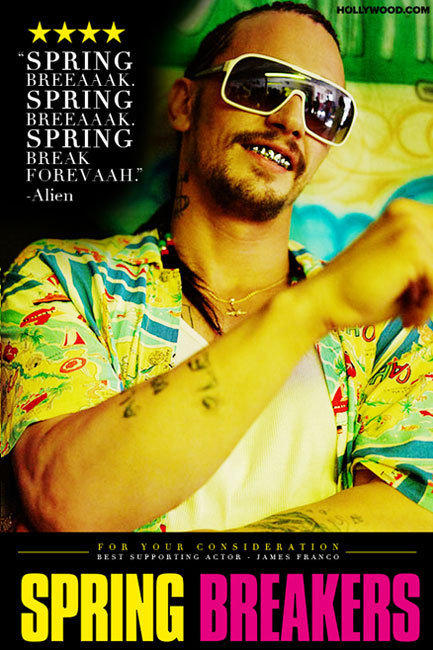 Hollywood.com
And now, almost six months later, the actual world has followed suit. A real For Your Consideration ad has surfaced for Franco, making a plea for his rightful passage into the Academy's roulette of award-worthy names. The Hollywood Reporter debuted distributor A24's below banner — a promotional shot from the film coupled with some high praise from Village Voice's Scott Foundas — which is the first step toward winning Franco that deserved  trophy…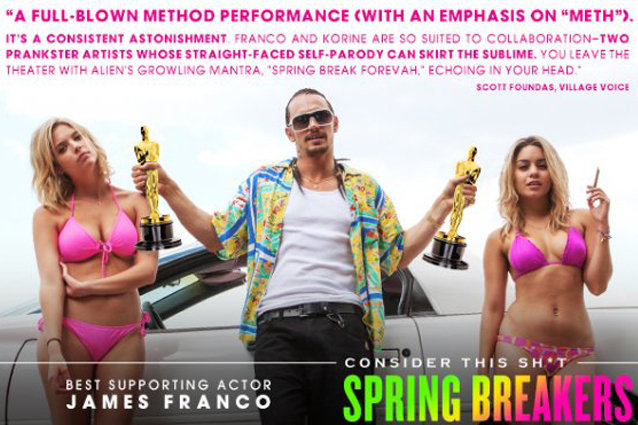 A24 Films
…well, second. We still hold fast to the fact that We started this thing.
…Okay, Franco and Korine started it. So, we were second. This is third. Either way, give him an Oscar.
More:
'Spring Breakers' Is a Metaphor for the Breakdown of Britney Spears
A 'Spring Breakers' Glossary: What the Heck Is an ATL Twin?S
'The Smurfs 2' Is the Same Movie as 'Spring Breakers'
---
From Our Partners:


40 Most Revealing See-Through Red Carpet Looks (Vh1)


15 Stars Share Secrets of their Sex Lives (Celebuzz)