James Franco is the Perfect Person to Play Tommy Wiseau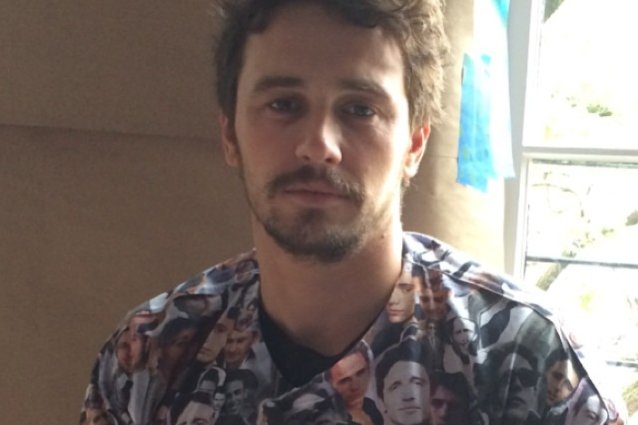 Instagram
It takes a misunderstood artist to know one, so when Seth Rogen revealed that his good friend James Franco has plans to play Tommy Wiseau in an adaptation of The Disaster Artist: My Time in The Room, the world responded, "Well, of course." Rogen revealed the plans during an appearance on the Opie and Anthony radio show where he talked about the film, which he will produce with his writing partner Evan Goldberg. Based on the book by Greg Sestero – who co-starred in the infamous cult hit – the film will chronicle the production process of The Room, which was plagued by problems and cost its writer/director/producer over $10 million. 
The Disaster Artist isn't the first time that Franco has expressed interest in Wiseau and his work. Last year, he wrote an in-depth piece about The Room  for Vice, and described Wiseau as "ageless, muscled, sweet, and scary; he is part vampire, part Hollywood dreamer, part gangster, part Ed Wood, and super lonely." Franco's depiction of Wiseau as a tortured genius is fitting, especially considering Franco is sometimes portrayed as a underrated artistic icon as well. The fact that much of Franco's statement can be used to describe himself seems to illustrate exactly why the Francophrenia star is the perfect person to step into the shoes of Wiseau. It's just one of the many qualities that Franco and Wiseau have in common: 
Both Are Multi-Hypenate Artists…
Though Wiseau is primarily known for his work on The Room, which he wrote, directed, produced and starred in, he has also produced and acted in several other films, as well as creating a television show and two web series. Franco, meanwhile, has dabbled in almost every artistic medium there is, and in addition to acting, directing, screenwriting and producing. He is also a painter, poet, teacher and novelist. Plus, he starred in Spider Man 3, which is basically The Room of the superhero genre. 
Whose Work is Not Taken Seriously..
Though most of the world loves The Room for being so terrible that it's entertaining, Wiseau seemed to believe it to be a great work of artistic genuis. He now seems to admit that it's not very good, though whether he's truly changed his mind about it or is just playing along, we'll probably never know. Similarly, much of Franco's non-acting work has received mixed-to-negative reviews from critics, many of whom dismiss him because of his celebrity status. Like Wiseau, he has also capitalized on the criticism to make fun of himself, although we're almost certain that he still truly believes himself to be an artistic genius. 
And Are Famous For the Wrong Reasons.
Wiseau's celebrity is due entirely to the fact that The Room is, according to Entertainment Weekly, "the Citizen Kane of bad movies," rather than any of his other, more successful projects. While Franco's been giving solid acting performances since his breakthrough role in Freaks and Geeks, he's more likely to get press coverage for things like taking half-naked selfies, inappropriate Instagram behavior, or fighting with critics on Twitter. And those are just from the last two months. 
Both Are Enigmas…
The little that is known about Wiseau's life comes from Sestero's book, which reads like the plot of a Nicolas Cage film. According to the story, Wiseau was born in communist Europe, moved to France and worked as a dishwasher before he was wrongfully arrested and tortured by the police. From there, he made his way to Louisiana, then to San Francisco, where he sold toys to tourists, changed his name and somehow made enough money to fund his film. Franco has revealed a lot more about his life, but he still makes it difficult for the public to get a grasp on who he is, primarily due to his strange career moves, various artistic endeavors and inability to open his eyes all the way. As Jonah Hill said at his roast "I've known you for years, and I'm still not sure I've ever actually met the real you." 
Who Have Seen Their Writing Adapted Into Films…
Franco's collection of short stories, Palo Alto, was recently adapted into a film by Gia Coppola – with Franco starring, obviously – which premiered at the Tribeca Film Festival to largely positive reviews. Wiseau, however, preferred to direct his adaptation himself, and turned his 540-page novel into The Room. Since the final product wasn't 9 hours long, that means enough was cut from the novel to be the basis for an entire Room film franchise. 
And Both Have a Connection To James Dean.
According to Sestero's book, Wiseau was so enamored of the late actor that several lines The Room were based on the dialogue in the film Rebel Without A Cause. He also revealed that Wiseau frequently visited a restaurant owned by one of Dean's friends, although if he's looking for a tenuous connection to Dean, he's probably better off befriending Franco, who won a Golden Globe for playing Dean in a TV biopic. Besides, it'll save him a lot of money in the long run. 
Also, They Look Alike 
Just put a long, dark wig on Franco's head and give him a healthy spray tan, and they could be twins.