Danny Boyle's 'Trance': James McAvoy Blows Minds, Literally…and Gorily — NSFW Trailer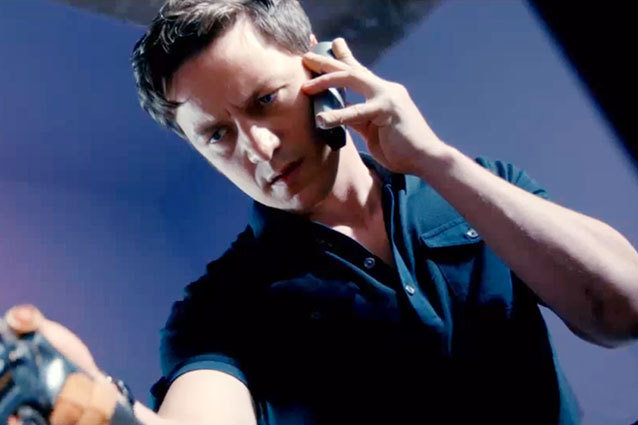 And now for something completely crazy: the trailer for Danny Boyle's upcoming hypnotism/art-world thriller, Trance (in limited release April 5). The Slumdog Millionaire director seems to be creating a psychotic hybrid of Inception and The Thomas Crown Affair in which James McAvoy plays a sap who undergoes hypnosis by a scheming Rosario Dawson.
RELATED: Danny Boyle's Art Heist Film 'Trance' Gets a Slick New Poster
He's either hypnotized into unwittingly helping Dawson and her fellow baddies steal a painting or he's undergoing a second round of hypnosis to unpack and recover memories from a heist he's already had purged from his consciousness. If you ask us, McAvoy's cryptic response to whether he's ever submitted to hypnosis before—"Uh, no, at least not that I can remember"—favors the latter interpretation. Either way, Boyle is abandoning his Slumdog and 127 Hours Oscar-bat schmaltz and heading back into nasty, gnarly Shallow Grave and Trainspotting territory. Blood spurts. Fingernails are ripped out. Nubile bodies are on display. And people can still talk even after having half their noggin blown off. (Be forewarned, that list image, occurring at the 1:12 is really grisly.)
Thought that Boyle couldn't get any crazier than when he had a Mary Poppins army battle a giant, inflatable Voldemort at the Olympics Opening Ceremony last summer? Looks like he's topped himself. Check out this slightly NSFW (courtesy of the bloody mayhem) clip:
Plan on getting en-Trance-d by Boyle once again?
Follow Christian Blauvelt on Twitter @Ctblauvelt
[Photo Credit: Fox Searchlight]