Jeff Daniels Sparks 'Dumb and Dumber 2' Rumors: Where Have We Heard That Before?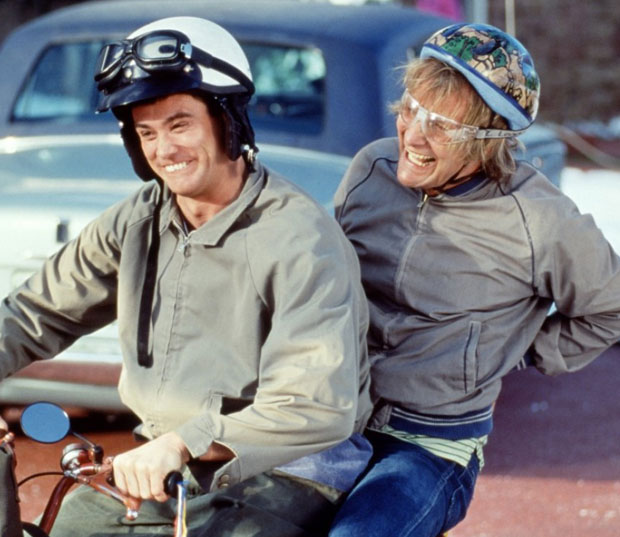 This must be what it feels like to be a rubber band. One second, we're stretching and flying and enjoying the wonderful news that a follow-up to Dumb and Dumber is on its way in the form of a Farrellys-sanctioned sequel, and seconds later, we're scrunched back up into a floppy mess because Jim Carrey says the sequel is off. Now, we're back to the stretchy, positive phase: Jeff Daniels told CraveOnline at the TCA 2012 panel for HBO's The Newsroom that "Jim wants to do it. I want to do it. The Farrellys want to do it." So Dumb and Dumber 2 is on its way, right?
Not so fast, snappy. We've been burned before. And while Daniels is clearly optimistic, he didn't provide us with an exact date – it's more of a general window of possibility. "So [the Farrellys are] going, 'Why don't we just do it right? Let's get everybody organized to go next May or June.' If everything works out on the business side, that's what we'll do but I think there's more hope than ever," he says.
How do we know we can trust Mr. Daniels? After all, the Farellys and Carrey have expressed their interest in the past, and yet here we are with no Dumb and Dumber: Part Duh. For guidance, we've gathered past rumors about a sequel to the classic 1994 comedy.
Feb. 2003: Before there was talk of an actual sequel, there was the nonsense known as the prequel to Dumb and Dumber – the one that dared to add a second "er" to the end of "Dumber." Perhaps it was the fact that we all wished we could like, unremember (or something) Dumb and Dumberer: When Harry Met Lloyd, but it got us thinking: how about an actual sequel. No can do, said 2003-edition Daniels. We didn't learn much about a possible sequel but we did learn one very important facet: No Carrey, no Daniels. He told The Calgary Sun he would never have accepted a role in Dumb and Dumberer and that Carrey had no interest in revisiting Lloyd: "I know they talked to Jim right after the film was such a hit, but even then he was reluctant to do a sequel." Our hopes were, more or less, dashed. [Moviehole]
Feb. 2011: We'd given up on the dream, but then, suddenly, out of an Australian junket for Hall Pass came something far more exciting than Jason Sudeikis and Owen Wilson on a bender: confirmation that the Farrellys were into revisiting Harry and Lloyd… properly. "If we could get those two guys back together, Jim Carrey and Jeff Daniels that might be a worthwhile sequel – and that ball is in motion," said Peter Farrelly at the time. Of course, that came with the fact that they hadn't yet started the work yet; at the time, they were just "starting to think," whatever that means. [Moviehole]
Oct. 2011: At the time, Deadline confirmed that the Farrellys were moving the chains on a Dumb and Dumber sequel, complete with screenwriters and everything. They still didn't have both Daniels and Carrey signed on, but the promise was intoxicating. [Deadline]
June 2011: Then it all started happening. Carrey uttered some very important words at a press event for Mr. Popper's Penguins. He told reporters "we're talking about maybe another Dumb and Dumber." And just like that, we felt it. Our (loose) confirmation had come. But there were dark times ahead. [ComingSoon]
April 2012: But before we came crashing down, we got a boost, courtesy of the Farrellys themselves. At the junket for another one of their over-the-top films, 2012's The Three Stooges, they told ComingSoon, "We're getting set to shoot Dumb and Dumber 2 in September … It's the first sequel we've ever done and we've got Jim Carrey and Jeff Daniels back." Did you hear that? The sequel is coming and both Harry and Lloyd are coming with it. Everyone do a little happy dance! But there would be no happy dance. [ComingSoon]
June 2012: Suddenly, we hit a wall. Carrey backed out, confirming his exit to ET Online and siting frustrations with the production road blocks. Still, we had the audacity to read this new development the same way Lloyd took Mary's brutal rejection: "So you're saying there's a chance?" [ET]
And perhaps we weren't so dopey after all. Clearly, Daniels also thinks there is a chance to get this sequel moving. Between his comments during TCA and his discussion with Piers Morgan in June, in which he sympathized with the frustrated Carrey and expressed his hope for the project to come back together, we're feeling a teeny, tiny bit hopeful about the whole thing. Just don't expect us to ride all the way to Aspen on a mo-ped. We're optimistic, but we're not delusional.
Follow Kelsea on Twitter @KelseaStahler.
[Photo Credit: New Line Cinema]
More:
'Anchorman 2': Sequel History, Rumors, and Why It Will Work
Jeff Daniels is Mad as Hell in the New 'Newsroom' Trailer