Here's Who Twitter Thinks Should Be in the 'Jem' Movie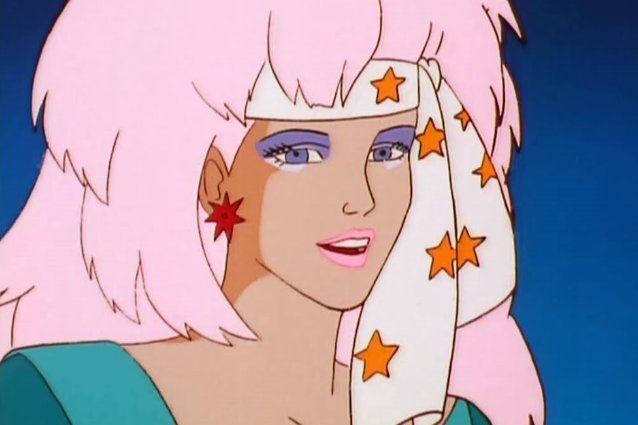 Hasbro/Marvel 
Well this is certainly outrageous. Director John M. Chu, best known for helming G.I. Joe Retaliation and the Step Up films, is teaming up with Scooter Braun and Paranormal Activity producer Steven Blum to create a  live-action film version of the cult 80's classic Jem and the Holograms. If that wasn't crazy enough, the trio is asking the internet to help make the film.
The original Jem television show was created by Christy Marx, and was developed alongside a line of toys from Hasbro. The show followed the adventures of Jerrica Benton, who transformed into Jem thanks to a mini holographic computer that could change her appearance on the fly. In a video uploaded today, the filmmakers are asking the most gifted members of the Tumblrverse to show their talents, and possibly earn a spot in the upcoming movie. Jem fans have taken to twitter to celebrate, and some have even given suggestions as to who they want to see as their favorite characters. They also want to hear any suggestions, casting or otherwise, in regards to the film. We decided to round up some of these casting ideas…
Jerrica "Jem" Benton
Jem is the enigmatic lead singer of the rock band Jem and the Holograms. By day, Jerrica Benton is the owner and manager of Starlight Music, but by night she becomes Jem, the lead singer of the all-girl rock group "Jem and the Holograms." Jerrica becomes Jem thanks to a holographic computer system named Synergy that is located in her earrings.
Twitter's Picks for Jem: Diana Argon, Jaimie Alexander
@jonmchu Also, casting wise – @DiannaAgron for Jem #JemTheMovie gets my vote.

— Darren (@DazzaField) March 20, 2014
@JaimieAlexander can you please play #jem in #JemTheMovie? I believe you and your knife collection would be #trulyoutrageous

— Tyler & Ross (@superheropod) March 20, 2014
Pizzazz
Phyllis "Pizzazz" Gabor is the lead singer and guitarist of The Misfits and often serves as an antagonist to Jem. Throughout the series, she frequently tries to upstage her rival. Pizzazz is spoiled by her father who neglects her emotionally. She dreams of becoming famous one day.
Twitter's Picks for Pizzazz: Lupita Nyong'o, Kesha, Miley Cyrus
Campaign for Lupita Nyong'o to play Pizzazz. #JemTheMovie

— Arya (@artboiled) March 20, 2014
If @KeshaRose doesn't play Pizzazz in #JemTheMovie I'm going to be livid. @scooterbraun @jonmchu

— Jesus Maroney (@JesusMaroney) March 20, 2014
My suggestion: Give Miley Cyrus a fright wig and cast her as Pizzazz. #JemTheMovie

— Terry Estep (@terry_estep) March 20, 2014
Stormer
Stormer is the songwriter for The Misfits. She's the most kind-hearted of The Misfits, and often feels bad about her band's attempts to sabotage Jem and the Holograms.
Twitter's Pick: Lindsey Lohan
Also, a few years ago, Lindsay Lohan would have been a PERFECT Misfit.

— jennifer abella (@nextjen) March 20, 2014
Eric Raymond
Sly and manipulative, Eric Raymond is the central villain of the series. He is a ruthless music executive that continually tries to sabotage Jem and her band.
Twitter's Pick: Jon Hamm
@JoyDanielle61 @MisfitsTamara @reelsistas @ReelTalker Have we discussed who will play Eric Raymond? I'm thinking Jon Hamm for some reason

— BlackGirlNerds (@BlackGirlNerds) March 20, 2014
Rio
Rio is Jem's childhood friend and boyfriend. He serves as a manager for the Holograms but doesn't know Jem's true identity. He develops a crush on Jem which, as you can imagine, makes things a bit awkward.
Twitter's Pick: Justin Bieber
@jonmchu @itsRyanButler justin bieber is talented at singing, dancing, and acting so.. @justinbieber #JemTheMovie

— FOLLOW ME AUSTIN (@XNASHBROWNX) March 20, 2014
Here's the video: