Clearly, This Is the Best Role of Jennifer Aniston's Career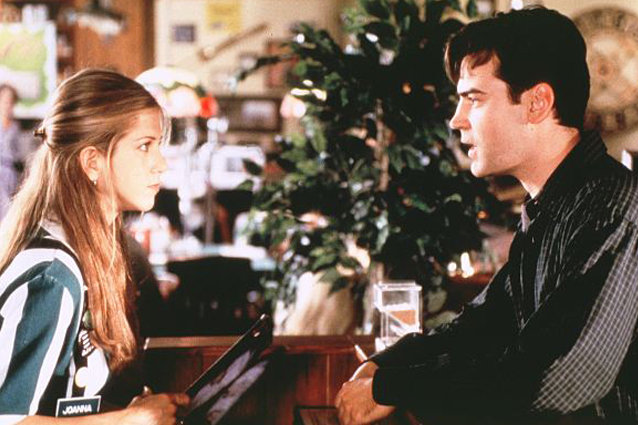 Jennifer Aniston may be best known for her role as Rachel on Friends, or perhaps as the girl that housewives rooted for during the whole Brangelina scandal, but her most brilliant piece of work is undoubtedly Mike Judge's 1999 movie Office Space. In a career that includes over a dozen formulaic Hollywood rom-com regurgitations that shall remain nameless, Office Space is a breath of fresh air in Aniston's oeuvre. The movie has achieved cult status for its original and unparalleled humor, its ridiculous but apt satire on the drabness that is office life, and its memorable characters, scenes, and quotes that hardcore fans can still spout off to this day.
Office Space, in many ways, is a fantasy movie, because protagonist Peter (Ron Livingston) does what we all wish we could do: stop going into work. But perhaps the most envy-inducing scene, which is unmatched in its cathartic powers, is when Peter, Michael, and Samir smash the evil copy machine to bits to the soundtrack of "Die Motherf****r" by the Geto Boys. We've all wanted to take a baseball bat to the printer when it refuses to print and says "PC Load Letter" for no reason. While we may have some annoying people in our offices, Peter has to deal with a boss who regularly asks him to come in on the weekend, the "Looks like somebody's got a case of the Mondays" lady, and the squirrelly mumbler Milton (who we, the viewers, love deeply). The only beacon of hope in his monotonous life is Joanna (Aniston), a waitress at Chotchkie's, where Peter and his co-workers usually eat lunch.
Watching Aniston as Joanna, who deals with her own work issues, is so much fun. She's constantly hounded by her boss (Mike Judge) to wear more "flair" and her co-worker Brian is her antithesis: hyper, eager to please, and wears lots of flair. When she meets Peter, they immediately hit it off when they find out that they both love kung fu. Jennifer Aniston as a kung fu fan? More of that, please! It's not a challenging role by any means, but we're not expecting Aniston to win an Oscar anytime soon. All we ask is for her to take on more offbeat, dark comedies, because after such a long string of predictable Hollywood rom-coms, she needs to earn back some of the street cred she got from Office Space.
More:
The Gender Politics of Vin Diesel's 'Riddick'
Say Cheese: Celebs Instagram from U.S. Open
5 Great Batman Songs
---
From Our Partners:


40 Most Revealing See-Through Red Carpet Looks (Vh1)


15 Stars Share Secrets of their Sex Lives (Celebuzz)