Oscar-Winner Jeremy Irons Pretends to Buffer in Our 'Beautiful Creatures' Interview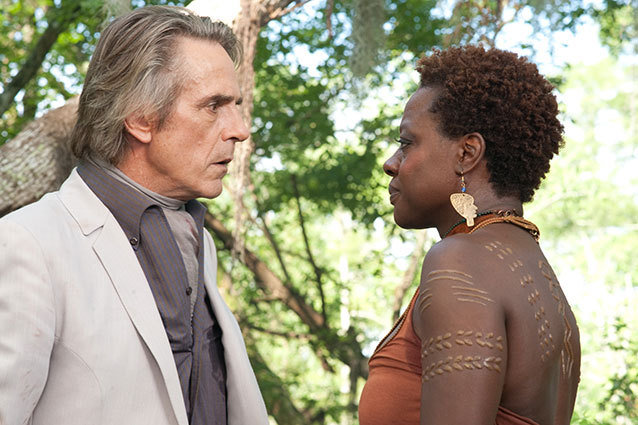 Jeremy Irons is about to mess with you.
When the actor sat down with Hollywood.com to discuss his role in the new supernatural romance Beautiful Creatures, he knew you'd be watching the video online. The pauses during his first answer? Totally intentional. Your internet connection is not screwed up, an Oscar winner is just screwing with your head.
Internet connectivity issues out of the way, Irons discussed his comfy costumes in the movie, about a teenage girl from a long line of witches, or casters, who will be claimed for the light or the dark on her impending 16th birthday. That silk robe he's wearing when you first meet his imposing warlock character, Macon Ravenwood? "Very comfortable, and relatively cool," he says — but totally unlike his real-life sloppy loungewear, in case you were wondering what Jeremy Irons wears at home. The actor also touched on the unique relationship between Macon and his younger niece, Lena, who's juggling a budding romance as her fateful birthday approaches.
RELATED: 'Beautiful Creatures' and More: Your YA Book to Movie Primer
"It's almost a father-daughter relationship, really. The story is a family story of young love and the pressures you have from society, from your schoolmates, from your competitors … your parents, and yet it's heightened," Irons says.
The actor also enjoyed his scenes alongside Emma Thompson, who plays Sarafine, Lena's mother and the wickedest of all the dark witches. "[Those scenes] were a joy to play," he says. "They were well-written and I was playing opposite an actress who's a lot of fun to play with. We were able to discuss and practice and rehearse a little bit and decide what we wanted to do. … It's like playing tennis opposite a great tennis player — it improves your game."
Check out Irons' full interview below — you kind of have to see for yourself.
RELATED: 'Beautiful Creatures': Alice Englert and Alden Ehrenreich on Their Fiery Kiss
Elsewhere in the movie, Oscar nominee Viola Davis stars as Amma, a close family friend and sort-of mother figure for Lena's love interest, Ethan. Amma is a composite of two characters from the book — Amma, Ethan's family housekeeper, and Marian, the town librarian and Ethan's late mother's best friend. Although she worried about getting flack from book fans for the merged characters, Davis tells Hollywood.com that she quickly came around.
"I'm glad [director Richard LaGravanasse] did what he did, because first of all, I didn't want to play a maid again, and I didn't want to play a maid that's 30-40 years older than I am. The first thing I said is I wanted to be integrated into the life of this world in 2013."
Besides, she already played a domestic character in The Help. "So many stories now, if you see that lone black character — especially if it's an African-American woman — she's in servitude. I didn't want to be in servitude. We have to join the 21st Century in that sense, and I just wanted her to make sense in this family."
Check out Davis' interview below — no buffering problems with this one.
Beautiful Creatures is in theaters now.
Follow Jean on Twitter @hijean
[PHOTO CREDIT: Warner Bros. Pictures]
---
From Our Partners:

Kate Upton Bares All in Nothing But Body Paint: Video (Celebuzz)

Bradley Cooper Dancing Is Surprisingly Awkward, Sweaty (Vh1)