Jessica Chastain, Kathryn Bigelow & More React to Golden Globe Nominations!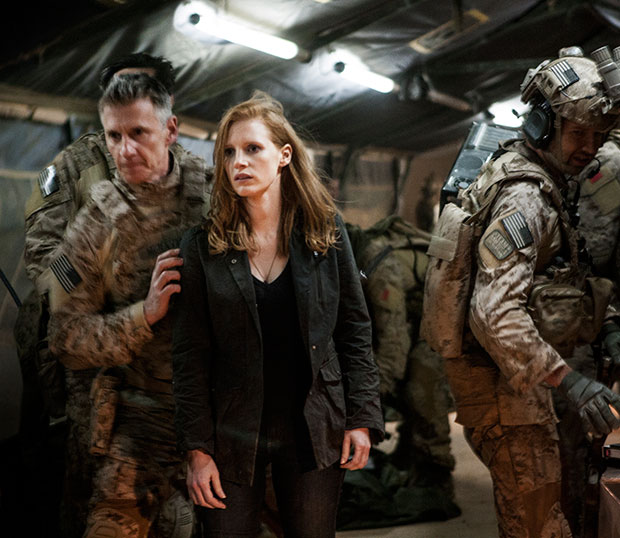 Pictured: Jessica Chastain in Kathryn Bigelow's 'Zero Dark Thirty'
The nominations are out! The Golden Globes race is on and the Hollywood Foreign Press Association announced their picks for the best movies, actors, and directors of the year Thursday morning. Naturally, many of the nominees can't keep their gratitude and joy to themselves.
Jessica Chastain, star of Zero Dark Thirty:
"Zero Dark Thirty is a film that I am extremely proud of and it's a tremendous honor to be recognized by the HFPA. I am so thankful for this nomination. I am elated to see our fearless producer Megan Ellison, our brilliant director Kathryn Bigelow, our wonderful screenwriter Mark Boal and this extraordinary film being honored today. I'm so proud and honored to play this exceptional woman."
Anne Hathaway, star of Les Miserables:
"What a great way to wake up! I couldn't be happier or more grateful for this news. Congratulations to Hugh and everyone who worked on Les Miz for their contribution to the best picture nomination!!!"
Kathryn Bigelow, director of Zero Dark Thirty:
"It's an honor, sincerely, and very humbling to be singled out this way by the HFPA. We're grateful, and encouraged by their support, especially since our film has such a diverse, international cast, and as the HFPA represent so many countries across the globe. And a big congratulations to the amazing Jessica Chastain and my producing partner and screenwriter Mark Boal."
Mark Andrews, writer/director Brave:
"The adventure of 'Brave' began in Scotland, where the mystery and majesty of the land fueled our imaginations. From haggis to highland games, creating this film truly changed our fate. On behalf of everyone at Pixar, we would like to thank the Hollywood Foreign Press for the incredible honor of this nomination."
Tim Burton, director of Frankenweenie:
"I'm thrilled to be recognized by the HFPA. Frankenweenie is a very personal project for me and the nomination goes as much to the animators who labored frame by frame to bring this film to life"
Mark Boal, writer/producer of Zero Dark Thirty:
"We're very grateful to the HFPA. It means so much to us that press representatives from around the world have reacted with such praise. It's especially flattering as we've seen the film from the beginning as a global story, one that involved and impacted much of the world. Congratulations to Kathryn Bigelow and Jessica Chastain on nominations much deserved."
Lasse Helstrom, director of Salmon Fishing in the Yemen:
"I am happy as a clam! Many thanks to the HFPA for recognizing our film with these nominations. I loved making this movie, and I am so happy for Ewan and Emily, and on top of being outstanding actors, they are two of the funniest and nicest people in the business, in my mind!"
Alain Boublil, Lyricist from Les Miserables:
"I feel like a painter who has added a touch of red in the corner of a painting that had been created 30 years ago. Claude-Michel Schonberg, Herbert Kretzmer and I were able to add something to our work that we thought was finished. I would like to thank Tom Hooper, who suggested this new scene that allowed us to create this song and blend it into the colors of the Les Misérables score. I also would like to thank Hugh Jackman who was a blessing to write this song for. Thank you, Hollywood Foreign Press!"
[Photo Credit: Columbia Pictures]
More:
2013 Golden Globes Movie Nominations
2013 Golden Globes TV Nominations
Lena Dunham Reacts to Her Golden Globe Nomination

'The Hobbit' Cast: A Who's Who New Character Guide (Moviefone)