John McTiernan To Direct Action Thriller 'Shrapnel'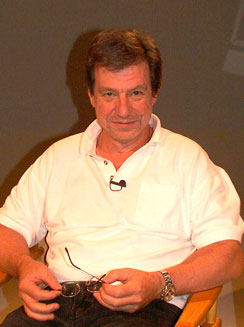 John McTiernan is one of the few filmmakers who knows how to make an action movie that doesn't suck.
The director, whose credits include Predator, Die Hard, and The Hunt for Red October, just signed on to helm the new action thriller Shrapnel (not to be confused with Len Wiseman's graphic novel-based sci-fi project of the same name).
Written by Evan Daugherty, the film follows two war veterans who hunt each other down in a game of cat and mouse. There will no doubt be lots of grunting and explosions. Paul Breuls and Anthony Rhulen will produce the picture.
"From the first time we read Evan's script, we believed we had the makings of a hit action film. With John McTiernan involved, the financing fell into place, and we expect to announce casting very soon," Rhulen told Variety.
Now that news is all fine and dandy, but one thing remains uncertain: McTiernan has a few legal issues to clear up. On October 4, the director faces sentencing after pleading guilty to making false statements to law enforcement officials during an investigation of Hollywood private detective Anthony Pellicano. Shrapnel's progress will likely depend on the outcome of the ruling.  
Regardless, it's exciting to know that McTiernan will be behind a camera again, especially since most action films that hit theaters these days seem to be the same old, run-of-the-mill routine. Though the fore mentioned plotline sounds a bit thin, so did the loglines of most of his hits. It's his skill with the camera, his ability to create cinematic tension and his knowledge of the genre's conventions that have always made his movies better than the average actioner.  Hopefully McTiernan can reinvigorate the action flick once again so that he can remind guys everywhere that his legacy shouldn't be defined by Rollerball. 
Source: Variety