'Snitch' Star Jon Bernthal Explains How He Ended Up in a Russian Acting School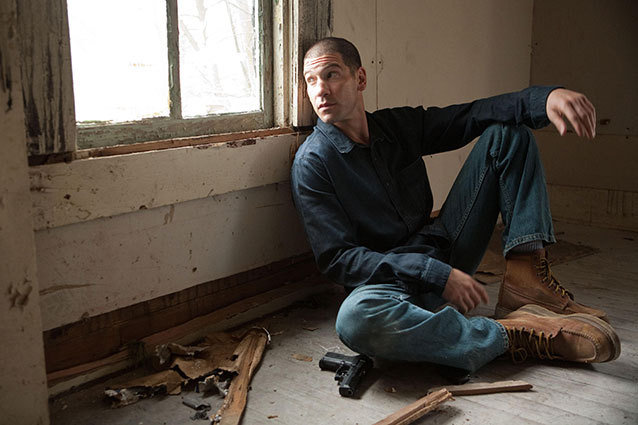 After winning over the hearts of millions by acting like a total jackass as Shane on The Walking Dead, Jon Bernthal has become an in-demand name — even to play parts with an ounce of sympathy.
In the new movie Snitch, Bernthal plays Daniel James, a man getting back on his feet, putting a life of crime behind him in hopes of maintaining a job and providing for his family. Unfortunately, his new boss (The Rock) is looking to break into the drug dealing scene in order to bust members of a cartel and leverage his son, who is facing his own time in the slammer. Given an offer he can't refuse, Daniel returns to the ugly world of smuggling and feels pretty darn horrible about it.
RELATED: Dwayne 'The Rock' Johnson Fondly Remembers Playing a 'Part Scorpion, Part Man'
Blame it on his work as Shane and his general appearance as a man who could beat the crap out of me, er, anybody, it's a surprise to see Bernthal pull off a sympathetic character. His ability to play any part on the spectrum is rooted in his unique backstory: growing up in Washington D.C. and ending up ditching college for Russian acting school.
"I was really into sports. I played sports in high school and in college," says Bernthal. His lifelong extracurricular quickly took a back seat when he discovered the world of dramatic arts. "I met this wonderful acting teacher named Alma Becker. Once I found acting, I really wanted to straighten out my life. She told me about the Moscow Art Theater, a great theater school in Russia. Stanislavski school, Michael Chekhov school, Anton Chekhov school."
RELATED: 'Snitch' Rips From Headlines to Deliver The Rock's Best Performance Yet
When reflecting on what Russian training taught him, Bernthal dabbles in the poetic. He cites an "unbelievable respect" that allows him to transform into a curmudgeon like Shane or a struggling, blue collar worker like Daniel. He also knows how that sounds: "My brothers would call me an actor douchebag for saying that, but… it prepared me for that. To take [acting] extremely seriously."
To see my entire interview with Bernthal, check out the video below. Snitcharrives in theaters Friday, Feb. 22.
Follow Matt Patches on Twitter @misterpatches
[Photo Credit: Summit Entertainment]
---
From Our Partners:


Happy 25th, Rihanna: 25 Naked Pics to Celebrate (Vh1)

'Warm Bodies' Nicholas Hoult as Young Han Solo? (Moviefone)