Joseph Gordon-Levitt Talks Accents and Addictions at 'Don Jon' Premiere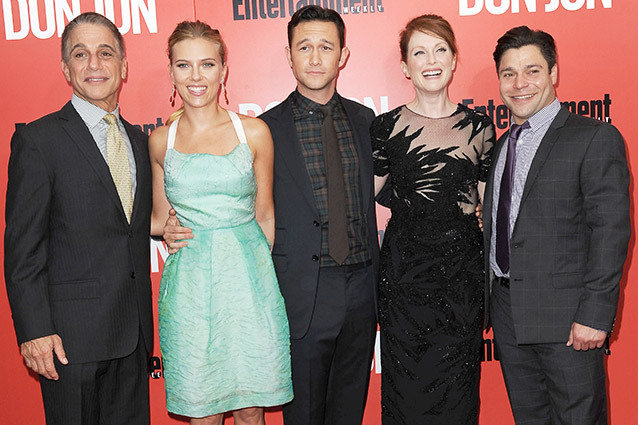 Kristin Callahan/ACE/INF Photo 
Thursday night's New York premiere of Don Jon brought celebrities from every end of the spectrum, including Broadway actors, baseball players, and movie stars. All were there to support Joseph Gordon-Levitt, who made his directorial debut with this film.
At the premiere, I was lucky enough to speak with Gordon-Levitt and when I asked him how it was to be behind the camera, he replied, "Well, I love it. There's so many different things that go into making a movie … Of course, what you're doing as an actor is a huge part of what the audience sees, but then, what the camera is doing at that time, or what the editing, or what the music is doing at that time also plays a huge part in the story that's being told. And, while I was coming up with this story, I had a lot of specific ideas about all those different elements. It was just a blast getting to play with all those tools." 
Gordon-Levitt also stars in the film as the title character, Don Jon, a New Jersey playboy who is addicted to porn. When I asked Gordon-Levitt how he perfected the tough New Jersey accent, he said, "I spent years writing the character, so I had plenty of time to practice it. I lived in New York, on and off, for ten years, so I'm pretty familiar with that accent." And finally, when I asked if he was addicted to anything in real life, he replied with a smile, "Work." Well, I guess if you are going to write, direct, and act in a film, you would have to be addicted to it.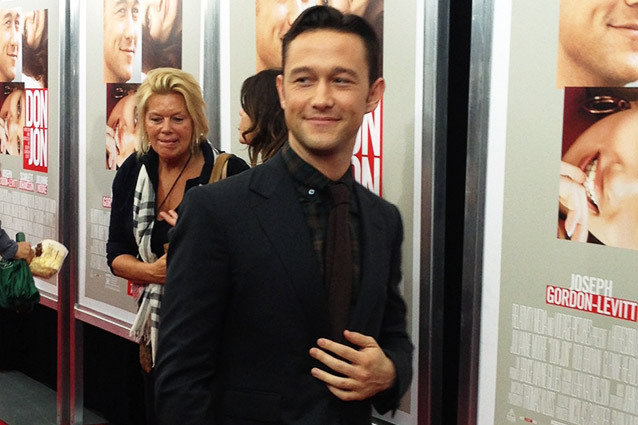 Hollywood.com
The rest of the cast, including Julianne Moore, Scarlett Johansson, and Tony Danza also made their way down the carpet and with mingled celebs, took photos, and did interviews for over an hour. When Moore was asked how Gordon-Levitt compared to other directors she's worked with, she replied, "I think the one thing that he shares with all the great directors I've worked with is his ability to articulate his vision, and he really knows what he wants, and is able to achieve it, and that's what great directors do." 
Other celebrities who came out to support the film were Melanie Griffith, Dakota Johnson, Adrien Brody, Chris Noth, Matt McGorry, Rob McClure, and Dan Fogler.
Finally, when it was time to enter the screening, Gordon-Levitt and Johansson, who are clearly real-life friends, took a selfie together, which Gordon-Levitt later Instagramed with the caption, "Me and Scarlett. @DonJon premiere! #NotAnotherSelfie" Celebrities, they're just like us.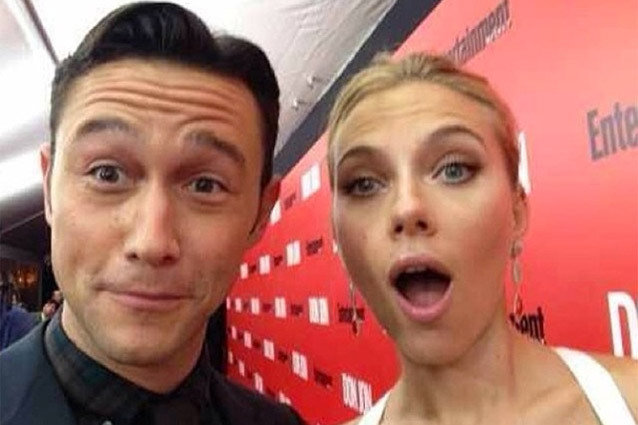 Instagram
Be sure to check out Don Jon when it hits theaters Sept. 27th.  
More:
Joseph Gordon-Levitt Rumored to be Marvel's Pick for "Doctor Strange"
Scarlett Johansson Sues French Publisher Over Romance Novel Character 
Julianne Moore in Talks to Join 'The Hunger Games: Mockingjay' as President Alma Coin
---
From Our Partners:


A Complete History Of Twerking (1993-2013) (Vh1)


15 Stars Share Secrets of their Sex Lives (Celebuzz)