Why Are People Acting Like Katy Perry Will Star in 'Beetlejuice 2'?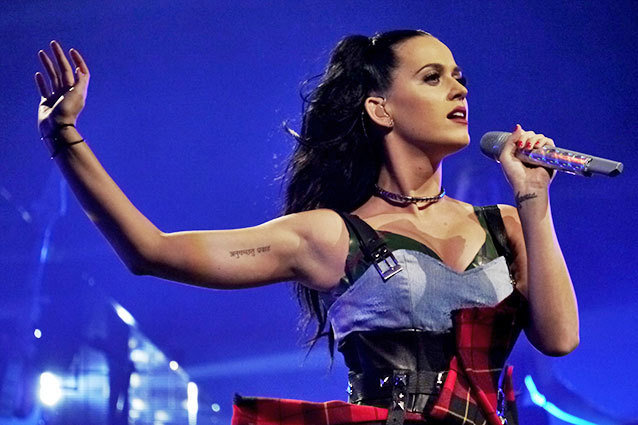 WENN
Everyone knows that being an ultra-famous celebrity carries with it the ability to pretty much do whatever you want. And right now you really can't get much more famous than Katy Perry. That's probably why the internet has been buzzing with talk of Perry taking on the starring role of Lydia in the upcoming sequel to the Tim Burton classic Beetlejuice. It's definitely not because she would be a good fit for the role.
The rumors are flying after the starlet mentioned during a concert that she would like the role. Apparently many people think that all it takes for Katy Perry, who's acting career is highlighted by her illustrious voice-only role as Smurfette in the Smurfs movies, to get a starring role in a beloved Hollywood franchise is to casually mention that she wants it during a concert.
To be fair, it does seem that this topic has received the attention it has because many people are disgusted with the idea of the pop singer touching their sacred film. But even if it is only mentioned on the internet out of outrage at the idea, they are still spreading the word. The more something is repeated, the more likely it will be taken as truth.
Unfortunately for Perry, internet rumors, especially negative ones, don't amount to getting a role. It's also very possible that she just mentioned it, not thinking that there was any real chance of her getting the role and the fans and internet just ran with it. But when a person's fame is at "Level: Katy Perry" it seems likely that this was mentioned strategically in hopes that the word would spread.
To all those Burton fanatics who are worried that their Crown Jewel will be tainted by a sequel and positively aghast that Katy Perry might have a hand in it, do not worry. I don't think Tim Burton is as easily star struck as Perry's legions of fans or those who seem to think that she actually has a chance of getting this role.