After 'The Hangover Part III,' Ken Jeong Dreams of a Chow Spin-Off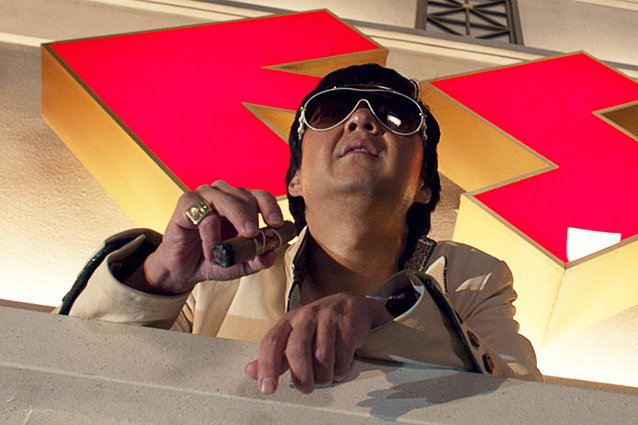 After jumping ship from his track to become a doctor, Ken Jeong hit the comedy world with a bang. Over the past five years, he's escalated from a bit part in Knocked Up into a substantial player on both the big and small screens. This weekend, Jeong appears in The Hangover Part III, and while the marquee will tell you the comedy threequel stars Bradley Cooper, Zach Galifianakis, and Ed Helms, its dominated by Jeong.
"This is the biggest role I've ever had and I think it's the best thing I've ever done as an actor," Jeong says. "I feel like this role is a culmination of everything I've done."
That's true on a comedy level: with a leading role intertwined into the misadventures of the Wolf Pack, Jeong's third outing as gangly crimelord Chow required a bit more pacing. He worked with director Todd Phillips to revive the manic character in a way that would be palatable over the course of an entire movie. "Todd is a great coach. He knows when to give me latitude and do my thing," he says. "He also knows when to rein me in. Having such an expanded part, it was really my first exercise in tracking the whole movie from beginning to end and where I'm at. It's not about maximizing being funny. It's a marathon and not a sprint."
The beefed up role also required more physicality than Jeong is used to. In the opening sequence, Chow escapes from the prison where we last saw him in Part II. To escape, the gangster finds himself leaping from the top of a mountain into the ocean — a stunt that required Jeong to jump from a sky high platform into a water tank over and over and over for a full day.
"That was the most intense stunt I've ever done. It was also, possibly, the greatest day of my career," Jeong says. As he puts it, Jeong has a "massive fear of heights" (he drops the word "massive" a few more times for emphasis). "I'm the kind of dude who cries on Ferris wheels. No joke — I was with my kid at Disney World on a Ferris wheel, and I was more scared than my kid."
To conquer his fears, Jeong worked with Jack Gill, Tom Cruise's stunt coordinator on Mission: Impossible – Ghost Protocol. "I worked with him once a week, being in a harness, 10 feet. Just getting used to that. Then 15 feet. Next week 20 feet. Then 25, 30. And then moving in a harness at those heights," he says. As scared as he was, Jeong admits that being thrust into danger is what he believes an actor's job is all about. "Every actor says, 'Yeah, it was great because I wanted to step out of my comfort zone.' Well, I put my money where my mouth was."
Not all stunts come in the same shape and size. At one point, Jeong has to stick his nose in Ed Helms' butt. And not just once.
"We know what we're getting into when you sign up for a Hangover movie," Jeong says. "And knowing Todd Phillips so well and knowing the tone of his movies, which I love… I think what we all have in common, we have a love of comedy and a love of mayhem. Deep down inside. Subconsciously. What I love about this group of actors is there is no overlap. No one is a diva. There's no ego. The most grounded group of actors. That's what I'll miss the most."
So will Jeong return if The Hangover Part IV stars brewing? He would be there in a heartbeat — and wouldn't mind stepping up his game even more for a solo venture.
"I love Chow so much. I'd love to do a Chow spin-off," he says. "I'd love to do anything Chow related. It's so freeing. You can say or do anything."
Or maybe a TV spin-off… although weekly doses of Chow is an intimidating notion.
Follow Matt Patches on Twitter @misterpatches | Follow Matt Patches on Twitter @Hollywood_com
More:
'Hangover 3' May Abandon the Formula
'Hangover 3' Calamity Continues in New Clips, Posters
'Hangover 3' Gets a 'Harry Potter' Makeover
---
From Our Partners


Stars Pose Naked for 'Allure' (Celebuzz)


Which Game of Thrones Actor Looks Least Like His Character? (Vulture)