How Is Kristen Wiig the First Woman From 'SNL' to Direct a Movie?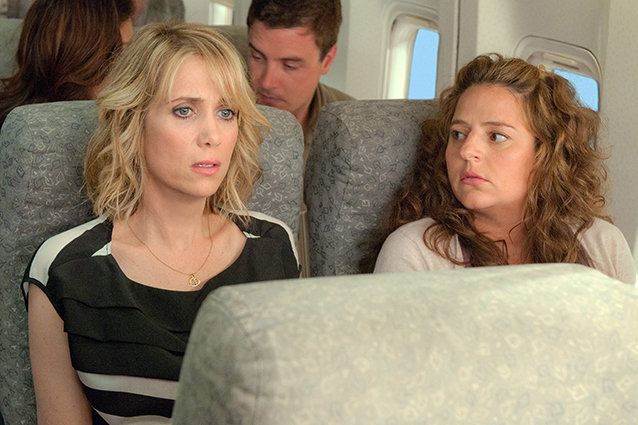 Universal Pictures via Everett Collection
Get your fresh-squeezed pink lemonade and don't forget to take a puppy on the way out: the follow-up to Bridesmaids is on its way. Kristen Wiig and co-writer and creative partner Annie Mumolo revealed Wednesday to the New York Times that they're beginning work on a new film, which will see the pair play best friends who "find themselves in over their heads and out of their depths, which were, perhaps, not too deep to begin with." The film, which as of right now has neither a title nor a tentative release date, will also center around a town called Vista Del Mar, and is slated to become Wiig's directorial debut.
In a statement about the project, Wiig revealed that she has been interested in stepping behind the camera for some time now, and felt that this project is the perfect opportunity for her first go. But this film wouldn't just mark Wiig's directorial debut; it would also mark the first time that a female cast member on Saturday Night Live has helmed a feature film. 
Though former featured player Laura Kightlinger directed the 2003 documentary 60 Spins Around the Sun, a picture about the career of comedian Randy Credico, none of the women from the historic series has managed to make the jump over to narrative film directing in the last 40 years. However, many male regulars have moved behind the camera – everyone from Bill Murray to Harry Shearer to Chris Rock to Ben Stiller has directed movies, many of which are critically-acclaimed. While directors in general tend to be overwhelmingly male, it's most surprising that SNL, a show which has a reputation for producing multi-hyphenate artists who are adept at a number of skills and genres, still has yet to produce a female director from among its ranks of repertory players.
After all, plenty of those actors are household names by the time that they leave the show. They spend most of their time on SNL heavily involved in the creative process, developing and writing their own material week in and week out, and often help make decisions about costuming, staging, and performance choices. All of those experiences and talents would lend themselves to directing. We'd expect many performers and writers with experiences in these fields to gravitate behind the camera at some point. So, why, then have so few of SNL's female performers made the jump?
Despite the success of female-fronted and written films like Bridesmaids, it's still much harder for women in Hollywood to get projects greenlit by studios than it is for men. Studios still assume that male audiences don't want to see films about or for women, even though many female-fronted comedies over the last few years have gone on to become some of the most successful films of all time. Bridesmaids is the seventh highest-grossing R-rated comedy ever made, and yet the industry still treats its success as an anomaly that won't be repeated. Considering how difficult it has been for many of the women on SNL to break into film as performers, it makes sense that they'd struggle even more to get a directing project financed.
Still, there is some hope that things will get better soon. Tri-Star Entertainment trusting Wiig to direct her follow-up to Bridesmaids – a film that is under a great deal of pressure, since Wiig and Mumolo rightly refused to make a unnecessary sequel – is a major sign of confidence not only in Wiig, but in women-fronted films in general. It may only be possible because of her first project's massive success, but it's still a major step forward, especially since studios have begun to trust other women-centric comedies to female directors, like Elizabeth Banks and Pitch Perfect 2. There are also a few SNL alums making their directorial debuts on TV shows, like Amy Poehler, who has helmed episodes of Parks and Recreation and Broad City, and that experience will help convince studios to hire more women on their projects. Not to mention plenty of women who, like Wiig, have often-stated an interest in directing (both Poehler and Tina Fey have expressed the desire to tackle a film soon), and more big-name performers stepping behind the scenes will help open the door for women who might not be as instantly recognizable.
Unfortunately, though, studios still see female-fronted and -directed films as a risk, which makes it difficult for women to break into different roles. It's depressing that Wiig, despite becoming a household name thanks to her time on Saturday Night Live, is the first female cast member to make the jump to directing. The show produces plenty of multi-talented women, and between the clout and name-recognition that SNL gives them, their ability to adapt to a variety of tasks and situations, and the way audiences are begging for more female-centric films, hiring more of those women to follow in Wiig's footsteps would be a risk worth taking.