'Legend Of The Guardians' Blu-ray Details Announced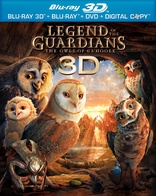 As Zack Snyder's name becomes increasingly relevant everyday with the release of the new trailer for his 2011 fantasy actioner Sucker Punch and the further development of his 2012 take on Superman: The Man of Steel, we're happy to announce that his 3D family adventure Legend of the Guardians: The Owls of Ga'Hoole will be getting its home entertainment release just in time for the holiday!
Warner Home Video today announced that the movie will hit shelves on December 17th in both 2D and 3D formats. Both will have a DVD and Digital Copy of the film, which features the vocal talents of Ryan Kwanten, Joel Edgerton, Abbie Cornish, Anthony LaPaglia, Helen Mirren and more, and the 2D Blu-ray will be included in the 3D package. The list of features that will enhance the wonderful film include:
Maximum Kid Mode: Soren guides you through the movie and reveals exciting real-life stories about the entire Owl Kingdom; also features two fun challenges, Armor Up with Soren and Eglantine and Match the Owl Treats.
Legend of the Guardians: Rise of the Guardians – The Owls'
legendary bedtime story that inspired Soren to seek out the Guardians
(BD-exclusive)
Music video: Owl City, "To the Sky" (BD-exclusive)
Artwork galleries (BD-exclusive)
Legend of the Guardians: The Guardians
The Locations
The villains of St. Aegolius
Legend of the Guardians: Soren and friends
True Guardians of the Earth: Digger and Modern Family Rico Rodriguez host this fascinating look into the world of owls and why they are counting on you to protect them
Fur of Flying: new Looney Tunes cartoon, starring Road Runner and Wile E. Coyote (in 3D on the 3D Blu-ray)
Needless to say, there's hours of extra content to entertain the kiddies long after they've memorized every line from the film, so consider this release a solid stocking stuffer for the holiday season!
Source: Warner Home Video