Cameron Mackintosh on 'Les Miserables,' 'Glee's' Influence, and a 'Miss Saigon' Movie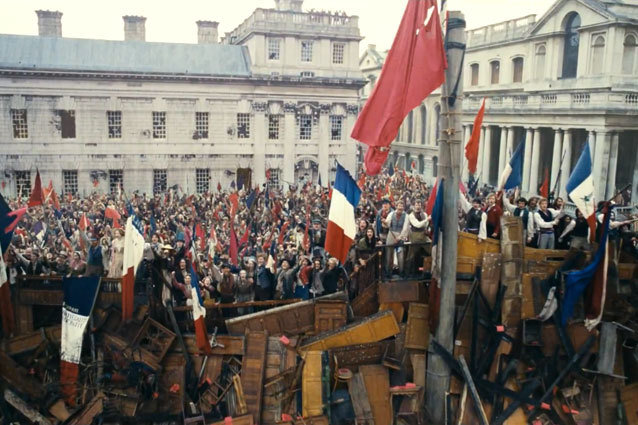 Considering how much Cameron Mackintosh has on his plate at any given moment, it's not surprising that it took the British mega-producer over 25 years to bring his time-honored classic musical Les Misérables to the big screen. For anyone who thinks they're busy, here's what is currently on Mackintosh's to do list: finalize the casting and design of the new version of Barnum; see rehearsals in Japan for a new version of Les Mis; finalize casting of the new version of Les Misérables in Toronto; audition for a production of Les Mis in Australia; oversee two versions of Mary Poppins on opposite ends of the Earth; prep the new and improved staging of Phantom of the Opera coming to Broadway; and help produce new productions of Oliver! being mounted in Korea and America.
"Plus, there are several new things in the works… I'm sure I've forgotten something," he says. Mackintosh is involved with every aspect of his productions — a reason why they're executed across the globe with masterful precision. He attributes that care to the success over the course of his career (the 2011 Sunday Times Rich List estimated his value at $1.1 billion). Shifting some meetings around to promote the Blu-ray release of his 2012 Oscar-nominated hit Les Misérables, we talked with Mackintosh on realizing the classic musical, what prevented it from happening 25 years ago, and when we'll see movie versions of his other popular properties (how is Miss Saigon not a movie yet?).
Clearly you're a busy man. How do you find time make a movie out of Les Misérables?
Cameron Mackintosh: It was quite a strain. An enjoyable one, but as I'm sure you know, with the film industry, it's not until they press the green button that everyone wants you to drop everything. Whereas what I do in the theater, because I'm so lucky to have many classic musicals, I'm two, three, sometimes even four years out planning how I'm going to put them on around the world. So it was a real strain over the last 18 months. I was on the set all the time. I didn't expect to be.
RELATED: Hugh Jackman Admits Singing In The Alps Is Harder Than 'Wolverine' Stunts
It came together quickly after years of being a possibility.
Mackintosh: The was that moment 25 years ago and the show opened on Broadway and we were going to do it. After five years, after Alan Parker [Midnight Express, Fame] couldn't wait any longer to make it, we didn't really find anyone else that I was happy with. There were sporadic calls over the years, but nothing really serious until Eric Fellner at Working Title [production company behind Les Misérables… said, 'Look, I'd like to have a serious talk with you.'
Why was this the moment when it finally took off?
Mackintosh:To be honest, it's really the fact that over the last five to eight years, people's acceptance of the musical form as widened. It's not an uncool thing for people to see musicals [laughs]. Whereas when I was starting 25 – 30 years ago, my friends didn't know if musical theater was something they wanted to see. Live music is generally something people want to go to now. The money is in live appearance. You have now an unheard of amount of pop theater music is played on prime time. It's on television, on the radio — people really embrace it.
So Glee, against all odds, has helped the world in some way.
Mackintosh: Yes, Glee, and Baz Luhrmann with Moulin Rouge. Evita happened. The huge success of Chicago. Indeed, Glee and Sweeney Todd and Mama Mia. All of these things have been growing and growing, and a couple of them have made serious money. The idea of a musical was no longer a, 'Oh, my dear. Nice idea, but no thanks.' I think we've hit the right moment. It also happened to be a practical right moment because it's a very first time a director approached me. At the time Tom Hooper came to see me, The King's Speech was still doing the rounds at film festivals. It hadn't gone into the cinemas. It hadn't gone from The King's Speech to The King's Speech. He just went to see the show, he had never seen it before. He thought it could be a really interesting movie. He had a point of view about it.
Of course, the cast we've been able to pull together. Most of them come or have some connection to musical theater. Most of them weren't born when I did the show originally! So we've literally grown the cast through the lifetime of the show. I don't honestly think, because I never got that far the first time around, that we would have been able to cast the film to the same extent. At that point we didn't envision it as a sung-through musical. Every studio we talked to went, 'No, you can have a lot of music, but we'd expect it to be a third spoken dialogue.' And unless we thought it was a problem, we were to go on with it.
Even with the first draft of Bill Nicholson's draft, there was a lot of dialogue in it. It was Tom Hooper who, as we started to go through it, said, 'I want to take all the marvelous stuff Bill has come up with and put more in. But I want it to be done and turned into the form that had been done for the stage show.' We pulled the stage show apart and used it as a bible to remake it as a movie, rather than just film the stage show. So we all sat around the piano and sang all the parts with Tom. We were far more brutal than Tom was. He started off thinking we'd be protective of our majorly successful baby, but we know she's a robust girl like Cosette!
RELATED: Samantha Barks On Singing In The Rain: 'Leave That Vocal Vanity at the Door'
Was there a specific moment of the show that you knew would be a challenge in the movie version?
Mackintosh:Having had the temerity with the fans to remake one of the most popular musicals ever, I knew as long as we did something they liked, delivered the same emotional impact as the original, they would relish the changes. When it came to the screen that there would be certain things. For instance, "One Day More," which is probably one of the greatest, theatrical End-of-Act-1 numbers ever written, all takes place in one place in a black box. You can not to do that. You cannot have marching peasants marching towards the audience. It would be ludicrous. That was a very hard piece for Melanie [Oliver, Editor] to cut and Tom to put together. Piece by piece… as we put it together, we realized we needed shots here, shots there, in order for it to have the drive in a cinematic way like it does on stage.
NEXT: Mackintosh Updates Us on 'Miss Saigon,' 'My Fair Lady' Movies
Was there something you thought of cutting that Tom insisted should stay?
Mackintosh:The only number that went was a number we always thought we wouldn't need for the movie because the movie allows you to explore characters in an easy way. We wouldn't need "Dog Eats Dog" because you get to know Thénardier much more from other shots in the film. You understood that side of his character, from the scene in the streets where they're getting money from Jean Valjean. That takes more screentime than it does in the show.
How have the success and failures of past musical adaptations influenced Les Misérables?
Mackintosh: I had nothing to do with the film adaptation of Phantom of the Opera, but to be honest, I would have wanted to do the film differently. This new version of Phantom of the Opera which we've done — I'm proud of the original production — but the new version is dangerous and gritty. It combines the world of upstage and the lair below. You see two different worlds. That would have been my approach to the film.
Are there any stories you want to tell exclusively in film?
Mackintosh:I would only have something to offer in helping my successful stage shows and giving them a cinematic life. I enjoy the adaptation when it's classic material.
I'm surprised more of them haven't happened. I look at Miss Saigon and think, 'this is a movie waiting to happen.'
Mackintosh: I think it is a movie waiting to happen. The thing is, as you know, it takes someone making a s**tload of money before they start making things. The fact that Les Misérables has made a great deal of money is going to encourage someone to do Miss Saigon. I do think the device of the show is inherently cinematic. It's already, with the dreams, allows you to do anything. In your head. Which is the thing that made Chicago work.
The thing that Les Misérables has proved, and the thing I'm glad Tom and I saw eye to eye about is recording it live. You needed to because it's completely acted. You only need to record some of Miss Saigon live, because it would be a visceral drama. The storytelling part of it. Other parts of it you can do in a more traditional way because it's about show business.
There had been rumors of a new Little Shop of Horrors. As someone who has been involved with that show in the past….
Mackintosh: I loved doing the original show with Howard Ashman, but David Geffen did the movie. It's certainly not a movie I would feel I've got anything to offer to. Or would I have time to do it. As you say, I've got things like Saigon, possibly Oliver! or My Fair Lady are more obvious for me to get involved with as movies.
RELATED: We Dream Cast Joseph Gordon-Levitt's 'Little Shop of Horrors' Remake
In theater, revivals are commonplace. In movies, people cry afoul when a remake is announced. Will there be room for a Les Misérables remake in the future thinking along the lines of how theater functions or is this the definitive version?
Mackintosh: Well, when they come around to doing it I'll be dead [laughs], so it probably won't be my question to answer. But if I found the right cast would I do My Fair Lady now? Yes I would. Because as much as I thought the original film had some amazing performances in it. I remember thinking as an arrogant producer — I was in school when it first came out — but I remember being struck that it was a rather stage-y film. I felt it was like huge theatrical sets. I think you could do a much more modern, fluid film.
It could feel like a real place.
Mackintosh: Yes. I think that's one of the strengths of Les Misérables. You feel like you've been taken to a world.
Is My Fair Lady a movie that you're actively developing?
Mackintosh: Because I staged the two major revivals in the last 20 years. My heart is very close to My Fair Lady. But there were various rights problems which are being finely sorted out as to when it can be made and remade. In the old days, you only made one movie! It's only in recent days that the word "remake" has had any significant effect. In the time these musicals were sold to Hollywood, people didn't have any interest in the theatrical world. They didn't think there was enough money in it. Now it's the opposite. All the film companies want to get into the theater world. Probably because Andrew [Lloyd Webber] and I have made so much money in it!
These days, every movie is being turned into a musical, for better or worse.
Mackintosh:Yes, for better or worse. You know, the real question — and it's always a difficult one — is, is there any reason for a particular subject to sing. Do you gain anything form them singing? For most stories, they don't gain. But when you get it right, it's marvelous.
With My Fair Lady, which is based more on Gabrielle Pascal's film, which was involved as co-screenwriter. The musical is based on the film rather than the original Pygmalion play. Just like Oliver!, another show I'm closely involved in and own part of the rights, that's based on the David Lean movie rather than the Dickens novel.
Films have always been a source for material, because you have to adapt a book to a movie. So that step of adaptation is always helpful. It was actually a musical that inspired Les Misérables. Alain Boublil had never seen a stage version of Oliver!, he had only seen the movie. As he watched this revival of Oliver!, in January of 1978, as the Artful Dodger is singing "Consider Yourself," suddenly in his mind popped Gavroche. By the end of the show, he thought, '[Les Misérables] could be a wonderful musical.' So he rang Tod Michelle in Paris and said, 'I found our next subject.'
Follow Matt Patches on Twitter @misterpatches
[Photo Credit: Universal Pictures]
---
You Might Also Like:


15 Oscar-Winning Nude Scenes


10 Insane 'Star Wars' Moments You Didn't Notice