Liam Neeson Needs to Step Away from the Action Genre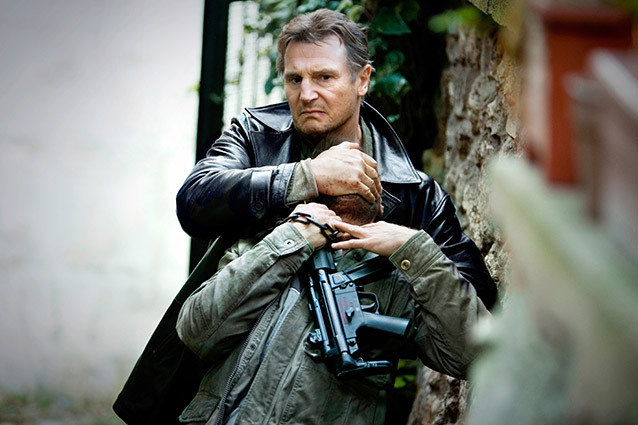 20th Century Fox via Everett Collection
There was a time in the early '90s when Liam Neeson had developed into an actor of great repute. Roles in films like Schindler's List, Nell, Michael Collins, and Rob Roy showed him to be a powerful performer, capable of infusing characters with tenderness without sacrificing their manly characteristics.
As all actors do, Neeson branched out and diversified his roles, going from the fantastical in Star Wars: Episode I – The Phantom Menace to comedy in Love, Actually to comic books in Batman Begins. But then there was the surprising success of Taken, a film with only modest expectations that ended up grossing $145 million in the U.S. alone.
Since then, Neeson has reprised his Taken role as Bryan Mills, retired CIA agent who is a bad guy's worst nightmare, in one sequel and presently filming another. Now he's starring in another action yarn: Non-Stop, in which he plays an air marshall on a quest to stop a killer on a plane. Neeson has found a groove and new level of fame playing tough guys that kick butt and take names… but the Irish actor should consider dialing back the action hero bit. In simplest terms, there doesn't need to be a Taken 4.
It isn't as though Neeson was ever too far from a fight scene; even in some of his Oscar-worthy work his characters were fighters. Neeson is a big guy so it's not hard to imagine casting him in roles that let him put his physical attributes to good use. But, we also don't want Neeson turn into Bruce Willis either. Willis can be a capable actor if he wants to be, but too often he smirks his way through a role as though his inner-John McClane might spring out at any moment. That's exactly what Neeson has to guard against: playing every role with just a twinge of Taken's Bryan Mills in it.
Not one to be completely pigeonholed, Neeson has continued doing a variety of roles, including lending his voice to the Bad Cop/Good Cop character in the blockbuster The Lego Movie and playing a Western bad guy in Seth MacFarlane's upcoming comedy A Million Ways to Die in the West, as well as reportedly filming a cameo in the Entourage movie. Taking diverse parts is one way to keep from getting stuck in an action rut, but it's not everything.
The actor recently signed on to reteam with his Gangs of New York director Martin Scorsese in Silence, where he'll play a Jesuit priest trying to bring Christianity to feudal Japan… and that's a good start. Continuing to work with A-List directors in challenging roles should always be a regular part of Neeson's career.
Neeson is such a likable actor and person that we're willing to forgive him missteps like Battleship and The A-Team, but we also want to see more of him being the actor that was nominated for an Academy Award for playing Oskar Schindler. He doesn't owe that to his audience; he owes that to himself.