Logan Lerman, Emma Watson and More Assemble for 'Perks of Being a Wallflower' Image
As far as I'm concerned Logan Lerman has got the "Charlie" down pat. He looks pensive, uptight, self-loathing, innocent…the works. But what about the rest of the cast? The new image from the The Perks of Being a Wallflower movie gives us a little heads up for what we're to expect.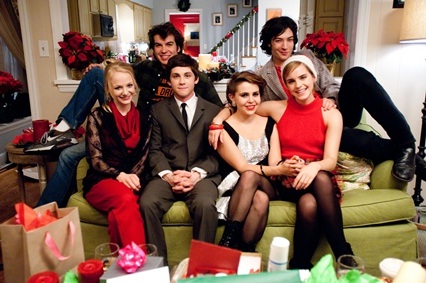 Emma Watson isn't the sort I'd ever expect to have embodied Charlie's guardian angel Sam, but I can't say that with any real disappointment—primarily because crowds of Emma Watson fans would accumulate with torches and pitchforks. In all honesty, I'm excited to see what she does with the role.
As an avid Arrested Development/Scott Pilgrim vs. the World/that one episode of Law & Order: SVU fan, I'm also on the Mae Whitman train. I think she can handle the offbeat, rebellious but insecure Mary Elizabeth quite well, and she looks right at home in the role.
We come to Ezra Miller as Patrick, Sam's gay step-brother. The only real disparity between Miller's Patrick and the one I imagined when first reading the novel is hair length. Otherwise, good to go.
The remaining pair look to be Johnny Simmons (playing Brad) and Julia Garner (playing Susan). All in all, the cast looks as on point as we might realistically hope for this iconic piece of our generation's literature. I can't wait to see more material from the film.
The Perks of Being a Wallflower, written and directed by the book's author Stephen Chbosky, also stars Paul Rudd, Dylan McDermott, Kate Walsh, Nina Dobrev and Zane Holtz.
Source: Paradisio Films via Oh No They DIDN'T!