Los Angeles Film Festival Review Roundup: 'They Came Together,' 'Dear White People' and More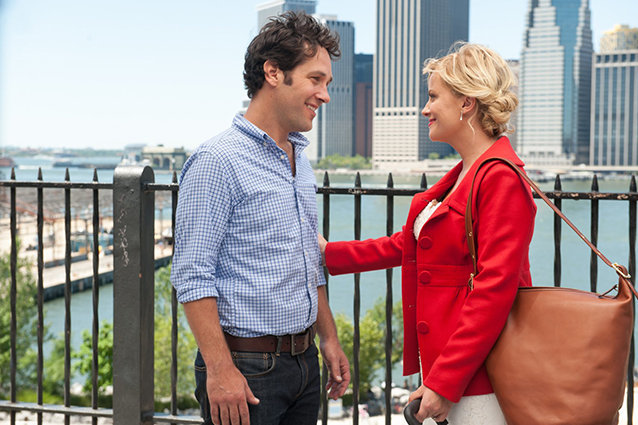 Lionsgate
It might not be as glamorous as Cannes or as cool as Sundance, but the Los Angeles Film Festival has just as much to offer as its larger counterparts. Between high-profile premieres of blockbuster films, international competition entries and some of the most exciting indies around all premiering at LAFF every year, there's plenty to pay attention to. But if you were unfortunate enough to let the this year's fest — which ran from June 11 to 19 — we've got you covered with a rundown of the most talked-about films to premiere at LAFF, and what the critics are saying about them. Now you can make all of your friends think you're cooler than you actually are.
They Came Together
The Amy Poehler/Paul Rudd romantic comedy you've been waiting for is less about the relationship between the central couple, Joel (Rudd) and Molly (Poehler), and more about skewering every last trope of the genre. Written and directed by Wet Hot American Summer's David Wain, the film lovingly parodies the traits, characters, conversations, and comically large apartments that appear in every rom com ever made, while allowing two funny, good looking people to fall in love in an entertaining way.
"The script's on-the-nose descriptions of each character (as described by the characters themselves) actually works to frame them as self-aware people forced to play out roles we have seen before and allows the hilarious cast to play within those lines. Poehler and Rudd have a natural chemistry that makes them believable as the two leads in love, but their comedy also blends well making it clear they are having fun with each other and the characters they are playing." – Allison Loring, Film School Rejects
"Wain leads his well-known cast through spoofs of such classics as When Harry Met Sally, Annie Hall, The Graduate and the sharp-elbowed comedies of Tracy and Hepburn. Each gag makes you wish you were watching the original, although a clench between Joel and his grandmother (Lynn Cohen) that almost leads to incestuous coupling deserves credit for sheer audacity. Most of the time, however, the actors on the screen seem to be having much more fun than the audience will." – David D'Arcy, Screen Daily
Cut Bank
A small town crime drama set in Cut Bank, Montana that centers on a former high school football star (Liam Hemsworth) desperate to find a way out of his town. After he accidentally films the murder of the town mailman, he is offered a reward that would give him enough money to leave for good, but things aren't a simple as they seem, and he finds himself caught in a tangled web of deception and danger.
"…Shakman lets the scenes unfurl with a clunky pace and little verve, simply exaggerating the irony and naivety in the town as his main go-to points. It only makes sense that [John] Malkovich's sheriff has never fired his gun and carries an aversion to violence; likewise with Palmer, who itches non-stop after a Miss Cut Bank pageant title even while she wants nothing more than to skip town. Thankfully humor seeps in through the edges of the film and its characters, sometimes on purpose and other times not." – Charlie Schmidlin, The Playlist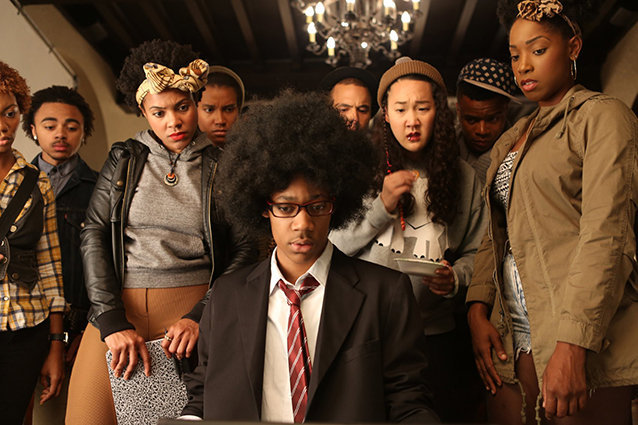 Lionsgate
Dear White People
A satire of college movies that tackles race relations and privilege in society, Dear White People follows four students as an Ivy League university — golden boy Troy (Brandon P. Bell), activist radio host Samantha (Tessa Thompson), Colendra "Coco" Conners (Teyona Parris), who has dreams of being a reality TV star, and shy misfit Lionel Higgins (Tyler James Williams) — after a planned "African American"-themed party thrown by a group of white students starts a riot on campus.
"If it ultimately feels modestly edgy rather than shocking or dangerous, 'Dear White People' nonetheless provokes admiration for having bothered to ask some of the hard questions without pretending to know any of the answers. It also works as a fine showcase for its actors: Fleshing out characters that could have been little more than one-note mouthpieces, Williams, Thompson, Parris and Bell all make strong, distinctive impressions, with Thompson perhaps the standout as the film's sharpest and most enigmatic figure." – Justin Chang, Variety
The Last Time You Had Fun
With a cast full of comedians and sitcom alums, The Last Time You Had Fun puts a grown-up twist on the standard "wild night out" comedy. After Ida (Eliza Coupe) forces her sister Alison (Mary Elizabeth Ellis) to blow off some steam with her, they find themselves bickering and partying with Clark (Kyle Bornheimer) and the sweatpants-clad Will (Demetri Martin), as the four of them attempt to have the most fun that four older, dysfunctional adults could possibly have.
"Granted, the excesses of Bridesmaids or The Hangover are not essential to sparkling relationship comedy, but Fun lacks an edge, or even much of an attitude. Blandly risqué situations, featherweight banter and a hint of implied sexual impropriety have all the heft of an extended cable sitcom episode. Or maybe it's the casting, which draws extensively on the TV comedy background of the four leads, who all acquit themselves adequately but can't achieve sufficient character differentiation within the ensemble. Undistinguished locations, flat lighting and primarily static setups perpetuate the small-screen aesthetic, which at least bodes well for the film's transition to home entertainment formats." – Justin Lowe, The Hollywood Reporter
Echo Park
The debut film from photographer Amanda Marsalis, Echo Park is a story about two people who come together "across cultural, economic and racial boundaries." Sophie (Mamie Gummer) is an unhappy housewife who moves from her Beverly Hills home to the up-and-coming neighborhood of Echo Park in order to shake up her predictable boring life, who finds herself drawn to Alex (Tony Okungbowa) after she buys his couch. But their burgeoning relationship might have to be put on hold, since he's about to leave for London…
"It's Marsalis' direction, and the fine performances from Gummer and Okungbowa that elevate the film above what it might have been, given the issues with the script and story that hover around the edges of cliché and stereotype (the worst offender: Sophie's mother). While the dialogue, especially the scenes between Sophie and Alex, works well, the story beats are oddly laid out, rushing through some important character and relationship establishing moments, and dwelling too long in moments where the characters are making frustrating, selfish choices. Still, the end of the film avoids falling into the traditional romantic film trap, leading to a message that's a bit more complicated and nuanced than expected." – Katie Walsh, IndieWire