Lucy Liu on Quentin Tarantino: 'He's a Big Fan of 'Shanghai Noon"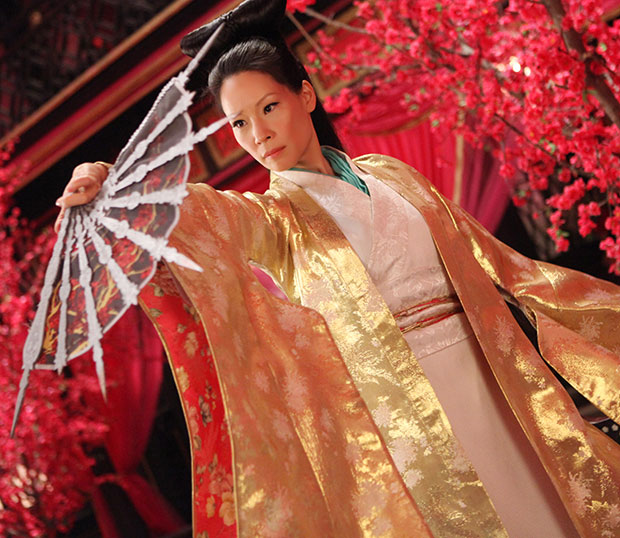 Unlike her Man with the Iron Fists director RZA, who grew up with a passion for kung fu flicks and superhero comics, Lucy Liu didn't dream of becoming an action star. Evolving from a career in New York theater and her breakout comedy work on Ally McBeal, Liu happened upon the agenre with a small role in Shanghai Noon and the Charlie's Angels movies. Now she's one of the few actresses in Hollywood associated with the high-octane blockbuster.
Speaking to Hollywood.com, Liu admits that male-driven martial arts films are great, but "when women do [action], there's something fierce about it." The additional intensity is always apparent when Liu is lighting up the screen. After years of working with the best in the business — including Quentin Tarantino, who cast the actress in his martial arts epic Kill Bill (and "presents" Iron Fists) — Liu knows her way around a good fight, making her the right fit for the off-the-wall antics on display in Iron Fists.
Check out the below video interview, where Liu applauds RZA for his "zen" directing approach, talks growing into an action heroine, and reveals how she first became involved with Kill Bill. Apparently, Tarantino is a pretty big Shanghai Noon fan.
[Photo Credit: Universal Pictures]
Follow Matt Patches on Twitter @misterpatches
More:
What Is Wu-Tang Frontman RZA's Favorite Woody Allen Movie?
RZA on Why His Plan to Become a Real Life Superhero Didn't Work Out
Comic-Con 2012: 'Django Unchained' Star Jamie Foxx Calls Tarantino a 'Hip-Hop Artist'
From Our Partners:

New 'Star Wars VII': What to Expect
(Moviefone)

(Moviefone)