Danny Trejo Murders Everything in New 'Machete Kills' Red Band Trailer
I don't think there has ever been a film title as plainly descriptive as Machete Kills. There's not nuance or irony or symbolism hidden between the letters. It's simple: Machete kills. That's all he does, and that's pretty much the only thing that the latest red band trailer for Machete Kills shows. Machete killing things. And it's glorious.
In this sequel to Robert Rodriguez's mexsploitation thriller, Danny Trejo reprises his role as Machete, an ex-Federale with an unparalleled skill for filling graves. President Charlie Sheen (Carlos Estévez) tasks Machete with killing Mel Gibson, so off Machete goes to heavily increase the murder rate in several U.S states and Mexico. The trailer is a visceral slideshow of the many ways to kill a man. The fact that there isn't just one scene where a man is flung into the spinning blades of a helicopter but two should tell you all you need to know about what kind of movie this is.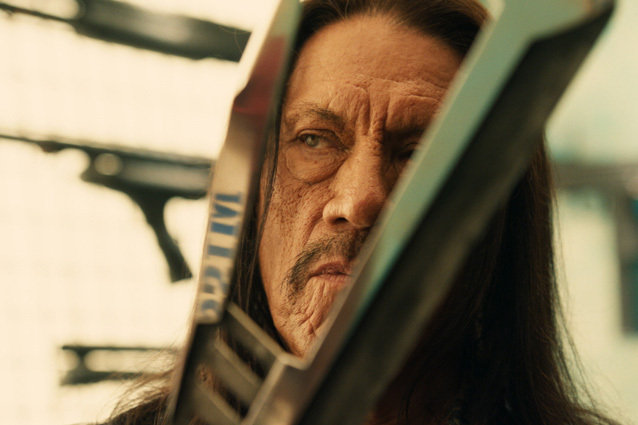 We also get a glimpse of the other players in Machete Kills including, Michelle Rodriguez, Lady Gaga, Cuba Gooding Jr., and the lovely Sofia Vergara who is determined to prove that there's still comedic value in screaming at everything really loudly.
We can't be exactly sure how the invetible Machete/Mel Gibson showdown will end, but if we had to guess, Machete Kills will end with both parties walking away amicably, having solved their differences peacefully.
More:
'Machete Kills' Wall of Weapons Clip
'Machete Kills' Green Band Trailer
Amber Heard Gets All Up on Danny Trejo in 'Machete Kills'
---
From Our Partners:


A Complete History Of Twerking (1993-2013) (Vh1)


15 Stars Share Secrets of their Sex Lives (Celebuzz)