'Machete Kills' Trailer Offers New Weapons, New One-Liners, and a New Drinking Game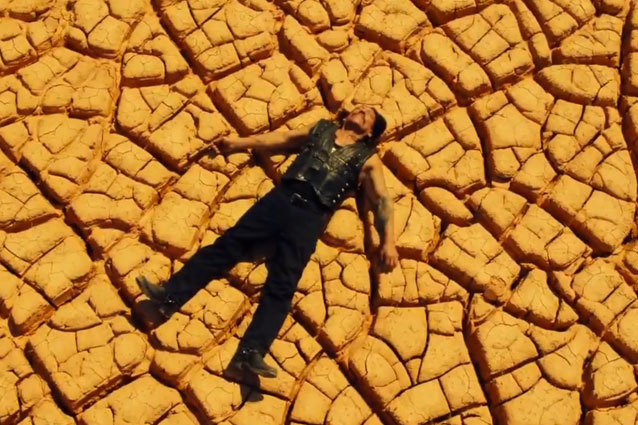 The sequel to Machete, Machete Kills just released its second trailer in anticipation of an October 11 release date.  The B-movie of all B-movies seems to offer even more of what we've come to expect and love from Robert Rodriguez. This new trailer unveils a little more of the plot and reveals a few gems from the movie to get excited about.
A ringing phone gets passed from one woman lying in a bed, to another… to another, to… the President of The United States (played by Charlie Sheen, or as Rodriguez has appropriately re-renamed him, Carlos Estevez).  We can only assume that this tequila-drinking womanizer of a Commander-in-Chief got some bad news on that call; a madman (played by Mel Gibson) is firing a missile at the Whitehouse. As the most powerful man in the world, he knows there's only one machete-wielding badass for the job: Machete (played by Danny Trejo).
Sounds like we're in for a good'un.  Here are the top three treats from the trailer:
IPhone Switchblade
Can't wait to see how he uses that one
Sofia Vergara's machine gun bra
Haven't seen firearms of this caliber since Austin Powers
"Machete don't tweet"
#machetedonttweet is trending
So what can you do to prep for Machete Kills? Get your Pacificos, Coronas, and Tecates ready, because with the sequel to Machete also comes the sequel to the Machete Drinking Game. Steven Segal isn't in this one, and there probably won't be as many references to Grindhouse trailers, so you'll have to get creative… Luckily not too creative; stick with what you know.  We're just shooting in the dark here, but if you take a sip of your cervesa every time someone dies, there's nudity, or Machete shares his disdain for technology, then you should be in for a good time.  Please drink responsibly. 
Don't be too quick to think you know what will happen in this sequel though. Madman Luthar Voz (Gibson) claims to know Machete's every move, but Machete, always armed with a strong counterargument, rebuts, "Nobody knows Machete." We'll take him at his word and enjoy a slew of new and inventive ways of killing bad guys on October 11.
More:
'Machete Kills' Trailer Goes Totally Insane
'The Canyons' Review
Jennifer Aniston Strips in 'We're the Millers' Trailer
---
From Our Partners


Battle of the Bikini Bodies (Celebuzz)


Complete Guide to Strippers in Movies and TV (Vh1)