'Mandela: Long Walk to Freedom' Trailer is Heartbreaking and Inspiring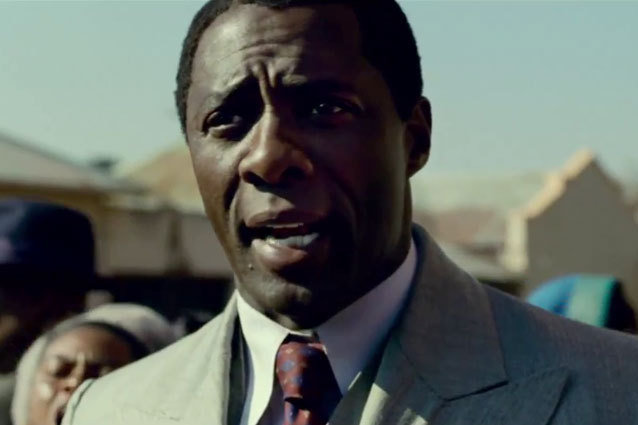 The Weinstein Company
The newest trailer for Mandela: Long Walk to Freedom showcases both the ups and downs of Nelson Mandela's life during his fight for peace and integration in South Africa. Idris Elba (Pacific Rim, Prometheus) takes on the iconic role of Mandela — and does so enthusiastically. In the opening sequence, Mandela is shown energizing a crowd and convincing them to fight for their freedom. The trailer then cuts to Mandela with his family, with a voiceover explaining that he wants his children to walk freely in their own country. This begins the fight of a lifetime where Mandela will attempt to bring peace to his people. 
 The two and a half minute trailer (above) fits in an abundance of information, showing various parts of Mandela's life from childhood, to him graying in prison, to his eventual rise to president of South Africa. The trailer also features Naomie Harris as Winnie Mandela, who fights beside her husband and also gets thrown in prison for causing protests and public outrage against the government. While the duo were originally advocates for non-violence, their decision to fight for freedom cost them years in prison as well as torture, humiliation and separation from their family. Finally, an international campaign to free Mandela became so popular that Mandela was freed and able to reconnect with his family, including his wife (who was also released). The years lost were clearly hard on Mandela, as he tears up when seeing his grown daughter. However, his life-long fight for peace was rewarded when  Mandela becomes the first democratically elected president of South Africa and the Apartheid was abolished.  
The film recently premiered at the Toronto International Film Festival where it is already creating Oscar buzz. Mandela: Long Walk to Freedom will be in limited release Nov. 29th and released everywhere Jan. 2014.   
More:
Idris Elba to Play Nelson Mandela in New Biopic
'Bond' Girl Naomie Harris to Play Winnie Mandela in Biopic?
Stars Wish Nelson Mandela a Happy Birthday
|
---
From Our Partners:


A Complete History Of Twerking (1993-2013) (Vh1)


15 Stars Share Secrets of their Sex Lives (Celebuzz)