Marion Cotillard Is Everything, So Let's Mentally Prepare For Her Next 5 Films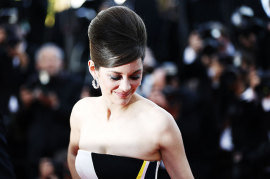 Valery Hache/AFP/Getty Images
French film actor Marion Cotillard isn't a household name here in the States just yet, but her next few films might change that. Now that she is officially a favorite of director Christopher Nolan's (having taken lead roles in Inception and The Dark Knight Rises), and now that we've all seen her unforgettable Golden Globe-nominated performance in the absolutely brilliant Rust and Bone (because we've all seen it…right???), it's time to mentally prepare for more amazingness from this woman. Lest we forget that she was the second French actress ever to receive a Best Actress Oscar, for La Vie En Rose, here are five upcoming projects that could lead to more well-deserved accolades for the star.
Blood Ties
Cotillard will star alongside Clive Owen, Zoe Saldana, and Mila Kunis, which is awesome. But the most exciting thing about the film is that she's re-teaming with her Rust and Bone co-star Matthias Schoenaerts, and Guillaume Canet — who starred in one of her early hits, Love Me If You Dare, and is directing Blood Ties.
Macbeth
Four words: Michael Fassbender is Macbeth. Okay, a few more words: Cotillard is Lady Macbeth. Seriously. Need we say more?
The Little Prince
Based on the beloved novel by Antoine de Saint-Exupéry, Cotillard will take on her first animated feature. She'll be voicing a character in the exciting new adaptation, along with James Franco, Rachel McAdams, and Paul Giamatti.
Two Days, One Night
The only French film on this list, Cotillard will team up with the critically acclaimed Dardenne brothers. Jeanne-Pierre and Luc Dardenne have been winning audiences and critics over throughout the years with films like The Kid With A Bike, L'enfant, and The Son; now they've enlisted Cotillard to play a wife who has one weekend to convince her co-workers to give up their bonuses so that she can keep her job.
The Immigrant
Cotillard is sure to deliver a brilliant performance in this 1920s drama, as she plays a Polish immigrant forced into prostitution upon her arrival into America. Even as she stars alongside the likes of Joaquin Phoenix and Jeremy Renner, we expect the French star (who learned Polish jsut so she could speak with the appropriate Polish-American accent) to really stand out.
More:
'Amélie' Makes Us Want To Be Better
Michael Fassbender To Play Macbeth
The Five Best Movie Trilogies
---
From Our Partners:


40 Most Revealing See-Through Red Carpet Looks (Vh1)


15 Stars Share Secrets of their Sex Lives (Celebuzz)