What the Hell Is Martin Scorsese Doing in a Low-Budget, Sci-fi Web Film?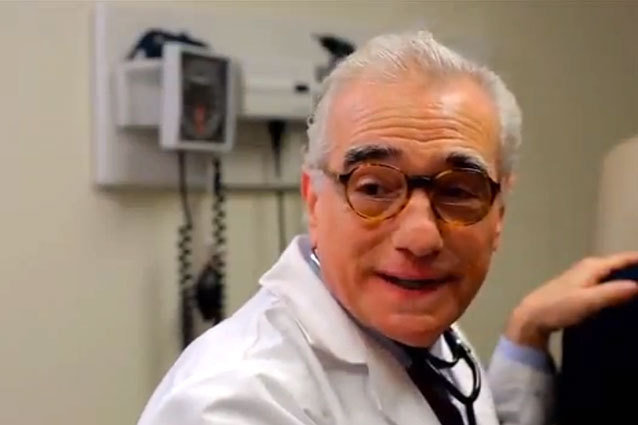 If you look at the below trailer for Campus Life, you might begin to wonder what, exactly, the draw is. Perhaps, as we can surmise from the openings shots of Greek letters adorning the college setting, the film is setting up to appeal to the party-loving masses enjoing their hedonistic early-20s. Perhaps the supernatural themes and Gothic-skewing characters are meant to incite fervor in the fan bases of The Twilight Saga and its brethren. Or perhaps, just maybe, it's the Scorsese factor.
About 30 seconds into this schlocky, low-budget, no-name project, we see none other than Martin Scorsese make an appearance, ostensibly in the role of a sage physician.
And we're perplexed. Perplexed enough to search for answers. What the hell is one of the greatest, most respected living filmmakers doing playing a character in this painfully obscure movie?!
We've got to wonder who on staff has dirt on Scorsese — did star Jesse McCartney (the second biggest name attached) witness Marty killing a guy? Not exactly… while Scorsese does have ties to one of this film's most prominent voices, the connection is apparently being kept under wraps: as our research has suggested, Campus Life is, in fact, directed by Martin Scorsese's daughter, Catherine Scorsese.
Or is it?
While the film is attributed to helmer Catherine in a variety of sources — her alma mater Fairleigh Dickinson University and NorthJersey.com — neither the trailer nor the IMDb page for Campus Life show any sign of Catherine's input. All directorial credits are instead assigned to Kenneth M. Waddell, with whom Catherine also allegedly worked on the TV movie An Elf's Story: The Elf on the Shelf.
So what the hell is actually going on here?! Did Catherine Scorsese direct this movie or didn't she? If so, why is her name nowhere on the trailer? If not, why is Martin Scorsese involved? Our only hope is to actually see Campus Life, and devote our waking lives to unraveling this mystery. This thing might go a lot deeper than we think…
Follow Michael Arbeiter on Twitter @MichaelArbeiter
More:
Martin Scorsese Is Bringing 'Gangs of New York' to TV
Martin Scorsese Making Bill Clinton HBO Documentary
Martin Scorsese Sued for NOT Making a Movie
---
From Our Partners:


40 Most Revealing See-Through Red Carpet Looks (Vh1)


33 Child Stars: Where Are They Now? (Celebuzz)