Max Winkler And Matt Spicer Take Hollywood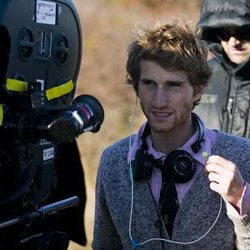 The names Max Winkler and Matt Spicer may not have the cachet of some other famed writer-director/writer-producer teams yet, but the filmmaking duo are preparing to take Hollywood by storm.
First up for the team is their feature debut, Ceremony, which Winkler wrote and directed and Spicer produced, coming to theaters April 8 with stars Uma Thurman and Michael Angarano. Meanwhile, they have also sold two high profile scripts to studios – The Ornate Anatomy of Living Things and The Adventurer's Handbook (which they wrote with Jonah Hill) – which have been generating a lot of buzz after the positive reviews (and Wes Anderson comparisons) Ceremony received on the various festival circuits last year.
And, as we already reported earlier today, Winkler and Spicer just sold First Man to Paramount Pictures, a pitch that has Jackass ringleader Johnny Knoxville starring as the rowdy husband of a woman recently elected President.
On top of that, we are now hearing more about another project, Whispers in Bedlam, a comedy with a Field of Dreams-type sensibility, which indie darling Jason Reitman (Up In the Air, Juno) asked the duo to write. The film would center on a football player who develops the ability to hear voices over long distances after undergoing an experimental surgery.
"It's… like a Frank Capra movie, tonally, it's a period piece in the '50s/'60s about old school football. Reitman always wanted it to be like a fairy tale that your grandfather would tell you before you go to bed at night," Winkler told The Playlist. "He offered it to us and we loved the story. I'm a really big football fan, and the language of the short story [by author Irwin Shaw] is so great."
If you're intrigued by all the press surrounding the Winkler-Spicer team, make sure to check out Ceremony when it hits theaters this time next month. In the meantime, you should check out the webisode series Clark and Michael (starring Michael Cera and Clark Duke), which Winkler directed. It's probably not representative of his evolving style, but it's damn funny anyway.
Source: The Playlist