Add the Medieval Times Theme Restaurant to the List of Absurd Things Turned Into Movies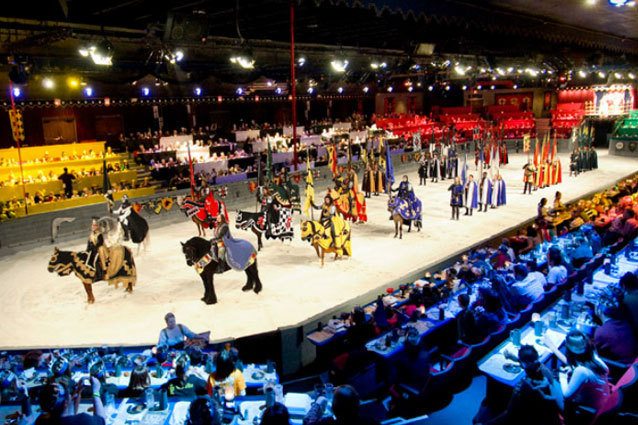 Though the wide-eyed artist inside of me is inclined to believe that inspiration can be found anywhere, there are some movies (many movies… most movies… okay, pretty much everything made in the last eight years other than Rachel Getting Married) that seem to exist solely on a cash grab. At first, Hollywood reserved its adaptations for books, comics, TV shows… you know, actual stories. But recent decades have seen any conceivable entity vie for big screen representation: board games, toy lines, amusement park rides. And now, restaurants — the latest institution to get the treatment is Medieval Times, the American dinner theater franchise and sixth grade end-of-the-year-class-trip mainstay.
Deadline reports that Benderspink and Broken Road are developing a feature film project about the eatery, which invites guests to root for one of six battling knights in competitions of horse riding, swordplay, and Middle Age bravado. Why, exactly, the production companies can't simply make a movie set in Medieval Times as opposed to one about the eponymous restaurant is yet undetermined. But scoff all you want — people love movies based on stuff.
Look at the Pirates of the Caribbean film franchise, which spawned from the collection of Walt Disney theme park rides and has made over $3.7 billion worldwide. Then there's Michael Bay, who turned a popular action figure line into the $2.6 billion Transformers film series. The outlier here is Battleship, an action-adventure that, despite its familiar board game source material, tanked in light of poor overall quality.
But clearly, there is no end in sight for the trend of movies made about moreover dumb stuff. And why should we stop? There are plenty of untapped venues for epic adventure flicks: coffee houses (Starbucks Into Darkness), supplies stores (Office Max Beyond Thunderdome), package delivery services (Fedex-Men: Days of Future Past). Endless possibilities.
Follow Michael Arbeiter on Twitter @MichaelArbeiter
More:
James Cordon Joins Johnny Depp and Meryl Streep in 'Into the Woods'
Watch Michael B. Jordan in 'Fruitvale Station' Trailer
'Star Wars: Episove VII' to Shoot in Summer '14
---
From Our Partners:


What Happened to 33 Child Stars (Celebuzz)


40 Most Revealing See-Through Red Carpet Looks (Vh1)