Melissa Joan Hart Wants to Move Forward: 'No One Wants Sabrina, the Middle-Aged Witch'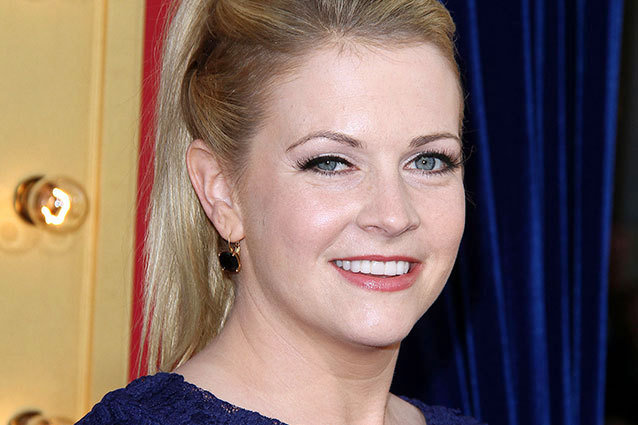 In the 1990s and early 2000s, Melissa Joan Hart was the object of many a pre-teen boy's crush and practically every young girl's aspiration. From Clarissa's killer wardrobe and keen insight to Sabrina's cutie boyfriend and magical powers, Hart had — and could explain — it all. 
But now it's 2013 and Hart is ready to leave her goody two-shoes image behind. "A lot of people still remember me as Clarissa and Sabrina," Hart says. "I do have my new show, [ABC Family's] Melissa and Joey, which is a fun adult comedy, but that's still having trouble getting as many eyes as shows like Sabrina [the Teenage Witch] did or having the cult following that Clarissa [Explains It All] did. So people a lot of times still think I'm on this kid show or still playing a safe child." 
Hart wants to transition her more mature persona from television to the big screen with the romantic comedy Darci's Walk of Shame (the title itself hints at some PG-13 subject matter), a film for which she is seeking funding on Kickstarter. "This character is one of these flawed women who can't quite get it right, is trying to find love and be the person she should be, and she ends up one morning waking up after her sister's wedding in Thailand and realizing she made a mistake," she says. "I love playing these flawed women, and I get to do that on Melissa and Joey, but to be able to do that on the big screen in a big, broad comedy would be so exciting." 
Hart was presented with the script by Tibor Takács, the director of the first Sabrina movie. Despite Hart's interest, they haven't been able to get the film off the ground. "We brought it around and tried all the traditional ways to get this movie made but it wasn't working out for us, we were having no luck," Hart says. "A lot of people shy away from romantic comedies unless it's got a big box office name at the front of it, and when Veronica Mars had great success on Kickstarter we thought that might be a good way to let the fans speak for themselves and sort of decide who they wanted at the helm of the movie."
But leaving things up to the fans isn't without its own set of stressors. "It's a risk. I'm asking other people to take a leap of faith and get involved and if we don't reach our goal it all goes away. So there's a very real possibility we might be in Thailand later this year shooting the movie, but there's also a very real possibility we won't," Hart says. 
In Veronica Mars' Kickstarter campaign, Kristen Bell played to her show's cult following and our culture's general obsession with all things nostalgic. While Hart is correct that she has legions of dedicated fans — ones who, as Hart says, "Grew up with [her], that feel like [she's] a part of their family or a good friend, and they really protect [her]" — Darci's Walk of Shame is a whole new project entirely, with none of the built-in sentimentality.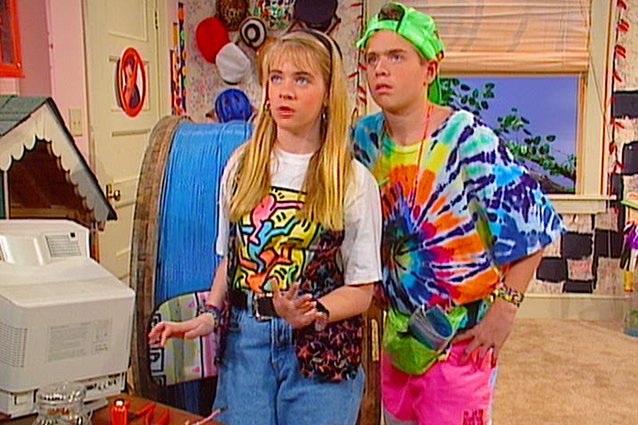 Would Hart consider casting fellow Sabrina or Clarissa alums in Darci to appease her fan base? "I hadn't thought about that, necessarily," she says. "But I always try to go back to my friends before I find new people, for sure. I already talked to a friend of mine about playing the male lead role in it, depending on when this happens and if it happens." 
Hart continues, "I'd love to work with Soleil [Moon Frye] or Elisa Donovan or some of those people. The hard thing with that, though, is it's not a Sabrina movie. So it's still hard to put Sabrina people into it and not have people go, 'You keep doing the same thing over and over again.'"
So, why not just do a Sabrina movie? Or a Clarissa one, at that? With not only the success of Veronica Mars but also other nostalgia-driven projects like Disney's Girl Meets World pilot and the CW's launch of The Carrie Diaries this year, the demand for the resurrection of old material has never been higher. But Hart simply isn't interested. 
"That's tough for me. I do want to move forward. I want to play new characters, I've played those characters for so long, and they were kids," she says. "I think in theory it sounds great to say, 'Let's see how they grew up,' for a one-off episode or something. But I don't think you want to see those shows come back as Sabrina, the Middle-Aged Witch. I just don't think it'll be as appealing as people say."
"I think even the theory of like a high school reunion — it sounds great and then you go and everyone is old and fat," Hart says. "And you're like, I didn't like these people when I was in high school, why am I hanging out with them now? So I think in theory it sounds great, but when you do it it's just sad."
That being said, Hart doesn't fault others who are eager to bring back her beloved characters, including Clarissa creator Mitchell Kriegman, who has a new Clarissa-centric novel, titled Things I Can't Explain, in the works. "We did a pilot for CBS which never went, so [the book is] probably Mitchell's idea of what he would have done in that pilot, that he has been tossing around in his brain for so long that he just wanted to get it down on paper, I'd imagine," Hart says. 
But for all her efforts to move forward in her work, Hart knows the reality is that she must also look back. Her memoir, Melissa Explains It All, is set for an October 22, 2013 release. 
There are 32 days to go in Melissa Joan Hart's campaign. Fans can pledge over at the Darci's Walk Of Shame Kickstarter page. 
Follow Abbey On Twitter @AbbeyStone
More:
Why is the 'Veronica Mars' Kickstarter so Polarizing?  
Jackee Harry Joins the Cast of 'Girl Meets World'  
Will There Be a Season 2 For 'The Carrie Diaries'?  
---
From Our Partners:


Eva Longoria Bikinis on Spring Break (Celebuzz)


33 Child Stars: Where Are They Now? (Celebuzz)