'Memphis' Heads to Hollywood — What Makes a Broadway Musical Movie Work?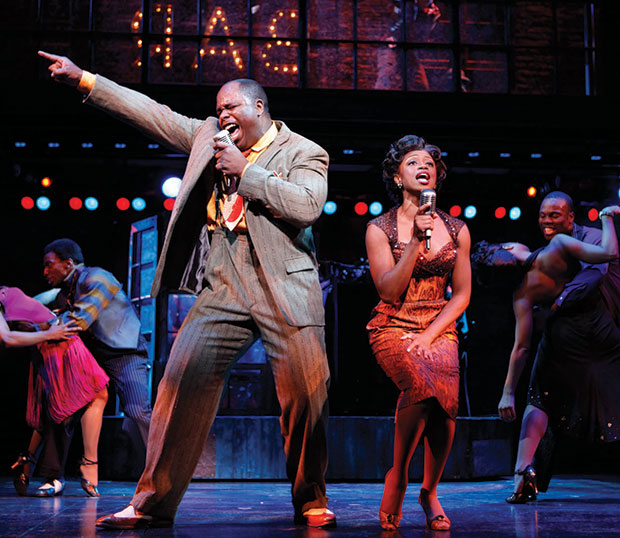 Three years ago this Friday, Broadway's Shubert Theatre began hosting productions of the stage musical Memphis — the 1950s-set story of a white, aspiring deejay with an affinity for black rock and roll — which originally took form in a Massachusetts regional theater six years prior. Following its 2003 conception, its 2009 arrival at Broadway, and a 2011 theatrical release of one of the play's Broadway filmed performances, Memphis looks like it will take form as its own feature film.
Hollywood.com has learned that the Mark Gordon Company and Belle Pictures studios are teaming with Alcon Entertainment to develop the popular musical for the big screen, a practice that seems to have become an inevitability for any hit Broadway production of past or present. Oftentimes, this rears well-received results, adorning the spirit of the stage with just enough Hollywood spectacle to dazzle. But sometimes, the efforts fall flat, either reaching too far for that glitz or not trying hard enough to achieve any freshness, instead banking on the charms of the title itself to thrill audiences.
In June, Warner Bros. released a film adaptation of Rock of Ages, which didn't exactly translate the camp of the stage production successfully to screen, instead treading well into the territory of overcooked ridiculousness. Conversely, when Mel Brooks decided to apply the songs and story of his tremendously successful Broadway musical The Producers (itself borne from his 1968 feature film) to the screen in 2005, it seemed as though neither director Susan Stroman (a producer on the stage production) nor stars Nathan Lane and Matthew Broderick were really trying to make anything fresh, new, or even at all very energetic.
Winners in the genre are plentiful, however. The film versions of Chicago (2002), Rent (2005), Hairspray (2007), and Mamma Mia! (2008) thrilled fans of the originals almost unanimously, but through the employ of dissimilar formulas. Whereas the Rent cast was comprised almost entirely of the Broadway production's original team (much like The Producers), Chicago, Hairspray, and Mamma Mia! instead opted for big name actors to fill the roles of its characters (a la Rock of Ages).
Additionally, Chicago (the Best Picture winner at the 75th Annual Academy Awards) chose to dictate its story through the stage's traditional malleable reality, often having its characters "teleport" to fantasy sequences in the delivery of songs. The other mentioned films vied instead for a more concrete reality.
There might not be a distinct formula for a successful Broadway musical film adaptation; the balance of comedy and drama seems to be a consistency among the lot of effective translations. But more than anything else, each of these movies seems to have been invigorated with a new sense of purpose. Even in the retelling of stories, with Chicago, Rent, Hairspray, and Mamma Mia!, it felt like there was a brand new reason to be hearing these songs and learning about these characters. As long as Memphis can uphold that sentiment, it should do justice to its beloved stage production.
[Photo Credit: Joan Marcus/Memphis The Musical]
More:
'Les Misérables': Can Famous Faces Replace the Broadway Stars? — PICS
TIFF 2012: Is Musical Drama 'Sapphires' Actually the Next 'Artist'?
Hathaway and Jackman Redefine 'Les Misérables' with On-Set Singing — VIDEO
From Our Partners:

'Paranormal Activity 4' Sneak Peek!
(Moviefone)

(Moviefone)