Meryl Streep Might Not Get an Oscar Nomination This Year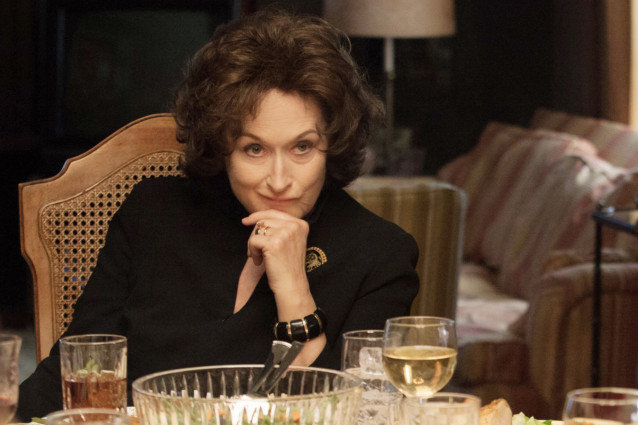 Copyright © ©Weinstein Company/Courtesy Everett Coll / Everett Collection
It turns out that the Mayans might not have been too far off when they predicted the end of the world. When the nominations for this year's BAFTA awards were announced, we couldn't help but notice that there was one name missing from the list. One name that we, like the rest of the world, had assumed would be on every list of award nominations until the end of time. We are, of course, talking about Meryl Streep, whose role as the brutally honest, pill-addicted matriarch in August: Osage County failed to earn her a nomination. Which brings us to a very important question: Could this be the first year in a long time without Meryl Streep getting an Oscar nod?
For the most part, the BAFTAs and the Oscars tend to be on the same page when it comes to recognizing the best films and performances of the year. The BAFTAs are one of the strongest indicators of who will walk away with a trophy on Oscar night, which makes Streep's absence even more surprising. After all, she scored both a Golden Globe and a SAG Award this year, so she seemed to be a lock for another Oscar nomination. But the Best Actress race is a tight one this year, with Cate Blanchett, Sandra Bullock and Amy Adams all predicted to be locks for a nomination. With Judi Dench likely to earn the fourth spot on that list, that only leaves one place open. Unfortunately, that means that Streep will have to contend with Emma Thompson — and possibly Kate Winslet, although her being nominated seems much less likely — and Saving Mr. Banks seems to be beating out August: Osage County in the awards race. 
Despite being anchored by Streep, August: Osage County hasn't received particularly positive reviews, which has likely contributed to its coming up short in the awards circuit. However, Julia Roberts has scored nominations from all three academies, so clearly there is still some good will for the film, but with the BAFTAs snubbing Streep it seems like she may be the only cast member to get recognized by the academy. It goes against everything we have been lead to believe about the Oscars, but there is a very real chance that 2014 will be a year without a Streep nomination. 
And if this prediction were to come true, would society continue to function in the same way? It's an unwritten rule of nature that when Streep makes a film designed to compete in the Oscar race — which we can tell by cast, material, and release date that August: Osage County certainly was intended to be — she comes away with a nomination. Like the tides, it keeps things right and balanced in the world. So, if Streep doesn't get nominated, will there simply cease to be order in this universe? Will we be plunged into a new dark ages, or some sort of apocalypse where chaos and disorder reign? If we can't even count on Streep bring front and center every year at the Academy Awards, while people shower her with accolades, what can we count on? Everything we thought we knew about life, faith, and the way the universe functioned may turn out to be a lie. Daniel Day-Lewis didn't even make a film this year, so there's nothing to hedge our bets on. 
Only time will tell if the Academy will manage to keep from bringing about the apocalypse by ending Streep's perfect run of Oscar nominations. Until then, we can at least take comfort in the knowledge that Leonardo DiCaprio will leave empty-handed again. It might be sad, but at least it's something we can count on.