Michael Fassbender in Demand: See Everything He's Working On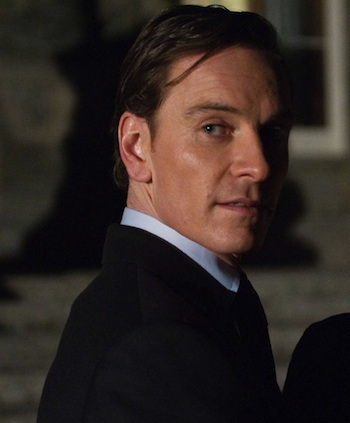 Does size matter? Significant others of the world may have varying answers, but in Hollywood, it doesn't hurt to have a long… list of credits. A rising star sparks with an audience in a handful of films, then quickly becomes the talk of the town. If they're lucky, they "attach" themselves to projects out the wazoo, hoarding potential vehicles that could be their next big hit if the stars eventually align.
That's the game Michael Fassbender is currently playing and thus far, it's serving him extremely well. Fassbender (who, as we learned in Shame, knows that size goes a long way) skillfully spun his success from breakout roles in indies like Hunger, Fish Tank, and Centurion into a hefty helping of starring roles both big and small. In the last two years, Fassbender rode the prestige wave to blockbuster parts in X-Men: First Class and Prometheus, with Shame earning him praise on the awards circuit. And the love for Fassbender hasn't cooled — along with the movies that have actually made it to screen, the actor has paired himself with a lengthy list of in-the-works projects. 
This week, Variety recently announced his latest, Frank, an Irish comedy that sees the actor playing an eccentric rock star. The film is at the other end of the spectrum than something like X-Men, but that's Fassbender's style. He loves to work, and directors, producers, and everyone Hollywood loves to work with him. Even The Counselor and Twelve Years a Slave co-star — and one of the undeniable kings of Hollywood — Mr. Brad Pitt, who has leveraged his success into producing his own projects and is is highly selective of the material he tackles. Of course, he's still currently attached to 11 films in various stages of development.
And it seems Fassbender is taking a page from Pitt and his A-list contemporaries: Leonardo DiCaprio has eight acting projects in development, with two in the can (Django Unchained and 2013's The Great Gatsby) and one shooting (Scorsese's The Wolf of Wall Street); Pitt's wife, Angelina Jolie, is shooting Maleficent and has four could-be films on deck; Tom Cruise has four films, including the questionable Top Gun II (which he developed with the late Tony Scott); after Thor 2, Natalie Portman has five; and while Will Smith reportedly has 12 movies in development, admittedly, some seem implausible (a Flowers for Algernon remake?). 
So where does Fassbender stand? With 11 projects in production, the actor's future is looking more and more like his Counselor and Twelve Years a Slave co-star's. Consider the projects he currently has in the works:
X-Men: Days of Future Past: A no-brainer sequel to the comic book movie success that's set for a July 18, 2014 release date.
Assassin's Creed: An adaptation of the popular video game would put Fassbender in the shoes of a legendary killer. The project was long-gestating but the recent announcement of Fassbender's involvement put the movie into high gear. Yes, he's making projects happen now.
At Swim-Two-Birds: Actor Brendan Gleeson's directorial debut that mixes Fassbender in with the likes of Colin Farrell, Cillian Murphy, and Gleeson himself.
Genius: From writer John Logan (Hugo, I Am Legend, Rango), the movie would star Colin Firth as editor Maxwell Perkins and chronicle his budding friendship with author Thomas Wolfe (played by Fassbender). Oscar-potential written all over it.
Jane Got a Gun: The producers of the movie couldn't confirm Fassbender's involvement when they sealed the deal for Natalie Portman to star in the Western, to be directed by Lynne Ramsay (We Need to Talk About Kevin), but insiders say he's a near lock.
Londongrad: The real-life story of Russian spy Alexander Litvinenko, whose poisoning in 2006 spawned an international investigation. Fassbender would play Litvinenko, and it's the kind of dramatic material that, if it gets the go ahead from the studio, shows confidence in the actor's ability to draw audiences into less-than-marketable fare.
Mountains Between Us: Fassbender would team with Miss Bala director Gerardo Naranjo on a drama that follows man and woman attempting to survive in the wilderness after a plane crash.
Right as Rain: Game of Thrones showrunner David Benioff adapted the George Pelecanos novel about a detective who investigates the murder of a black cop by a white cop only to discover an underbelly to the entire situation.
The Sycamores: Although stagnant for a few years, Fassbender remains attached to the project described as "a King Lear-esque murder mystery about an ill-fated family reunion set under the swirling skies of 1970s Northumberland."
An Unititled Celtic Warrior project: Fassbender will also act as a producer for the film, which will see the actor play a superhuman warrior who helps his tribe fight against a rival group.
Prometheus Sequel: Rumors peg a sequel to this summer's sci-fi movie for 2014/2015. Fassbender could theoretically return. Whether he'll have time….
Follow Matt Patches on Twitter @misterpatches
[Photo Credit: Relativity Media]
More:
'X-Men: First Class' Sequel Will Feature More Michael Fassbender
Michael Fassbender as James Bond: The Trailer!
Michael Fassbender Opens Up About Dating His 'Shame' Costar
From Our Partners:

Jennifer Lawrence Hopes 'House at the End of the Street' Scares People — VIDEO
(Celebuzz)

(Celebuzz)