Miley Cyrus and Michael Cera In a Rom-Com? Absolutely!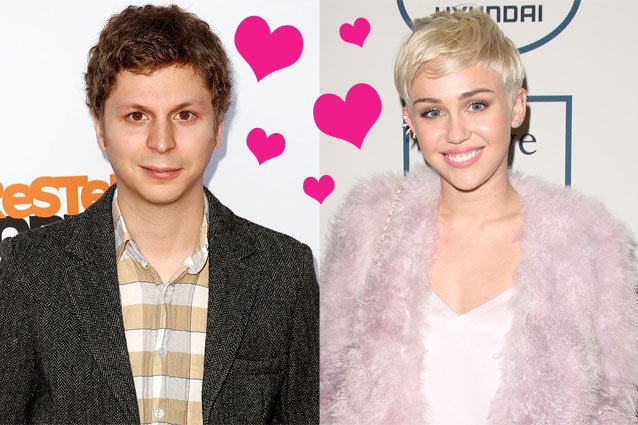 WENN/WENN 
When Miley Met Michael? The Head Shop Around the Corner? Pairing Miley Cyrus and Michael Cera in a rom-com could be just what the stagnant form needs. Romantic comedies has been left for dead after a series of lame stories and unfortunate casting choices have cast a pall over the genre. The rom-com could very well rise from the ashes like a phoenix, however, if studios would pay more attention to chemistry.
In the years since Tom Hanks and Meg Ryan made moviegoers swoon, we've learned a few things about romantic comedies. One is that a "meet cute" does not make a story. The other is that Ashton Kutcher doesn't have on-screen chemistry with anyone. Really, with very few exceptions in recent years, the pairings in big screen rom-coms have had all of the sizzle of a wet mop. Here then are four pairings that, combined with the right script, could make hearts flutter once again.
Miley Cyrus and Michael Cera
Cera has perfected the socially awkward love-struck type. Whether in Arrested Development or Nick and Nora's Infinite Playlist, we know what we can expect. Cyrus, for all of her headline-grabbing scandals, actually is very talented. The audience already has a type associated with each, so all the story has to do is play off of that. The formula to pit Cyrus' wild child persona against Cera's stammering has been used effectively in movies like What's Up, Doc? and Something Wild… but that was many years ago. Give the set-up a few modern flourishes and let the Cyrus-Cera combo do the rest.
Kerry Washington and Taye Diggs
This pairing starts with the actors' looks. It's possible tha Kerry Washington and Taye Diggs could vie for best looking on-screen couple ever. But looks would just be the start. Washington has proven her range as an actress and her turn hosting Saturday Night Live showed us that she's willing to have some fun. Diggs is stuck in a bit of a rut, but we still remember his bemused turn on Ally McBeal. Make Diggs a rich guy and Washington an activist with a cause that creates a conflict and let the sparks fly.
Emma Stone and Paul Dano
Yes, we know that there are some that like seeing Emma Stone with frequent co-star Ryan Gosling, but that's gone as far as it can go. How many times do we need to see Stone's eyes widen at the realization of how good-looking Gosling is? Paul Dano has shown what he can do in prestige movies like 12 Years a Slave, but he also has a romantic side as evidenced by Ruby Sparks. Great actors feed off of each other, and Stone and Dano have already made believers out of many a film critic. Give them a smart, sophisticated script and they would knock it out of the park.
Kat Dennings and Justin Timberlake
Kat Dennings, Cera's costar in Nick and Nora's Infinite Playlist, can cut anyone down to size with a properly timed put-down and bright red lipstick-framed smirk. Justin Timberlake tried his hand at romantic comedy with Mila Kunis in Friends With Benefits and the result was two pretty people being boring together. We know that JT can be funny thanks to his SNL efforts and we know that he can be suave thanks to his New Jack Rat Pack stage persona. Give Timberlake a chance to show off his coolness and then let Dennings burst his bubble. Done right, it could have the electricity of Richard Gere and Julia Roberts.