Review: 'Million Dollar Arm' Is a Strangely Likable Movie with So Many Problems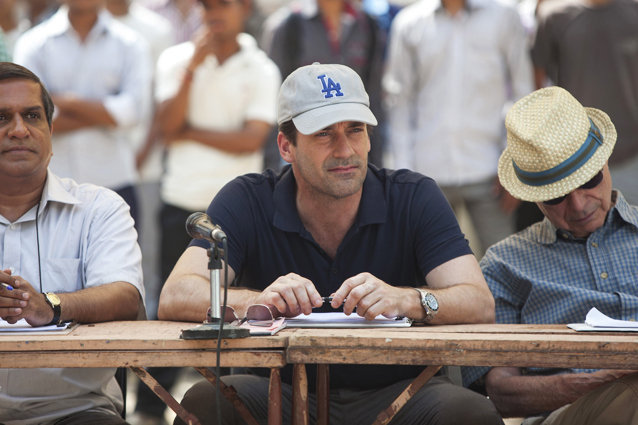 Walt Disney Studios via Everett Collection
Million Dollar Arm takes a lot for granted when it comes to its audience. It assumes that anyone paying to see this film must care about baseball. Odds are it's right — you've got to have some motivating factor beyond Jon Hamm's jawline. But it assumes you care enough that it doesn't matter how little its characters seem to. We see so few instances involving any carnal appreciation for the game throughout the bulk of the picture, least of all from cranky and materialistic sports agent J.B. Bernstein (Hamm), that when the final act treats us to its coup de grâce tearjerkers we can't help but feel like we're being thrown one hell of a curveball.
But that isn't the worst of the film's assumptions. As a last ditch effort to find a ringer both talented and bankable enough to save his career, J.B. throws caution to the wind and high tails it to India on a scouting mission for strong-armed cricket bowlers. So casually racist that you'd think this film takes place long before 2008, J.B. hates everything about cricket (…why?) and India on the whole, submitting immediately to the idea that he's in a third-rate wasteland where nothing can get done, nobody knows anything, and any young boy would be elated to get out of dodge. And Million Dollar Arm has no interest in proving him wrong: The film never second-guesses (and assumes we won't either) the notion that Big Leagues hopefuls Dinesh (Madhur Mittal) and Rinku (Suraj Sharma) would be happier and better off in America. It assumes we won't take any issue with the idea that two boys from India must have never seen an elevator, a television, or a moment of good fortune. Sure, they might not have… but it's as if Million Dollar Arm expects us to believe there is no other option when a wide-eyed Sharma wanders through a Californian hotel like Wall-E exploring the starliner.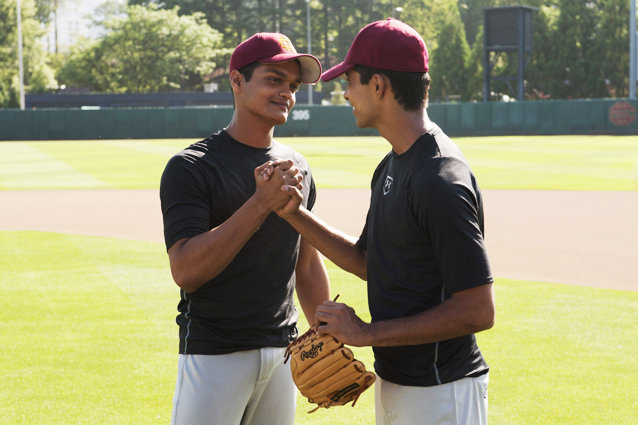 Walt Disney Studios via Everett Collection
The film gives itself so much regrettable leeway while carting through the necessary points of its true story, jumping from the laughable inception of J.B.'s plan to move his search overseas to the languid introduction of the two boys (neither of whom is given any backstory) and their entry into the MLB's consideration. But scattered throughout are beats and scenes that seem ripped from a different script entirely — J.B.'s gradual appreciation of Dinesh, Rinku, and much bemoaned translator, documentarian, and aspiring baseball coach Amit (Pitobash Tripathy) as his surrogate family. Of course the vast majority of his emotional realizations come at the behest of his beautiful, kooky tenant Brenda (Lake Bell), but the kids are usually at least nearby.
It's shocking how much the personal material does to salvage Million Dollar Arm, though. J.B.'s relationship with Dinesh, Rinku, and Amit, and — perhaps more importantly — the relationships between Dinesh, Rinku, and Amit themselves are funny, warm, and flavorful enough to give this otherwise faceless movie some real character. Secondary players Bill Paxton and Alan Arkin do little to surprise, playing disgruntled and unconscious respectively, but there's a reason these guys are always called on to do the same thing. And if that's not enough for you, Aasif Mandvi's kids keep throwing up. It plays both like an extended metaphor about the hidden joys in family life and a non sequitur gag from Tomcats. Take your pick.
Million Dollar Arm's charming points are strong enough to distract at times from its boisterous misgivings, but they peer through in the end. Not every baseball movie needs hair-tustling and eye-welling. Not every baseball movie warrants a Pride of the Yankees elegy about the glories of the diamond. But Million Dollar Arm wishes it was one of these movies (so much so that it actually rips the Lou Gehrig speech right out of Gary Cooper's mouth). Still, instead of building a story about the love of baseball or even about the magic of this story, Million Dollar Arm keeps all its genuine energy on a bunt: the story of some jackass who warms up to a couple of kids after a while. Not a bad play, but hardly the grand slam it was going for.
2.5/5