'Movie 43': We're Giving Away an iPad Mini!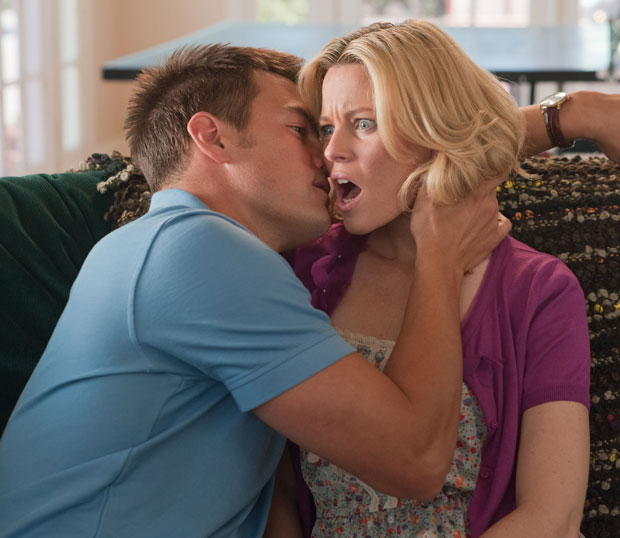 Warning: This movie is not for the weak-stomached, faint of heart, or easily offended.
In Movie 43, comedy is served steaming hot by director Peter Farrelly of The Farrelly Brothers (Something About Mary, Dumb & Dumber). Starring Elizabeth Banks, Kristen Bell, Halle Berry, Leslie Bibb, Kate Bosworth, Gerard Butler, Bobby Cannavale, Kieran Culkin, Josh Duhamel, Anna Faris, Richard Gere, John Hodgman, Terrence Howard, Hugh Jackman, Johnny Knoxville, Justin Long, Stephen Merchant, Christopher Mintz-Plasse, Chloë Grace Moretz, Chris Pratt, Liev Schreiber, Seann William Scott, Emma Stone, Jason Sudeikis, Uma Thurman, Naomi Watts, and Kate Winslet, get ready to see all your favorite A-list actors in a way you've never seen them before. Movie 43 is jaw-dropping, uproarious, outrageous fun. And the only thing better than seeing this movie is winning an iPad Mini too!
That's right, thanks to Movie 43, Hollywood.com is giving away a 16GB iPad Mini to one of our lucky readers.
To nab this awesome prize, follow these steps in order:
1. Follow Hollywood.com on Twitter @Hollywood_com starting Tuesday at 1 PM ET.
2. Tweet us the phrase "The only thing sweeter than seeing #Movie43 would be winning an iPad, too. #HollywoodcomMovie43"
3. We'll choose a winner at random and notify them on Jan. 25.
The contest runs from 10 a.m. ET Tuesday, Jan. 22 until 11:59 p.m. ET on Thursday, Jan. 24. Check out the .
(c) Severability; Headings: If any provision of these Official Rules isfound to be unlawful, void, or for any reason unenforceable, then thatprovision shall be deemed severable from these Official Rules and shall notaffect the validity and enforceability of any remaining provisions. Headings and captions are used in theseOfficial Rules solely for convenience of reference, and shall not be deemed toaffect in any manner the meaning or intent of these Official Rules or anyprovision hereof.
(d) Winner: For a list of winners, send a self-addressed stampedenvelope after __1/26/13____to: Winners List, "_Movie 43 iPad Giveaway " Sweepstakes, Hollywood.com, Inc., 2255Glades Road, Suite 221A, Boca Raton, Florida 33431. Requests for Winners Listmust be received by __1/31/13____.WA and VT residents may omit return postage.
(e) Rules Requests: To receive acopy of these complete rules, send a self-addressed, stamped envelope to:Official Rules, "_Movie 43 iPad Giveaway _" Sweepstakes, Hollywood.com, Inc., 2255 Glades Road, Suite221A, Boca Raton, Florida 33431. Requests for Official Rules must be receivedby __1/31/13___.WA and VT residents may omit return postage.