Movie Musings: Andrew Garfied is Spider-Man, 'Airbender' and Animation

  Andrew Garfield is the new Spider-Man, 'Airbender' and more!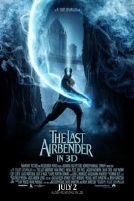 1. Let's Talk About The Last Airbender's Strengths and Weaknesses
The Last Airbender is by no means a good movie, but it's sure as heck should be better than an eight percent "fresh" rating on RottenTomatoes. Seven percent puts it in the same league as Glitter, Boat Trip, and All About Steve and it's simply not that bad. What we have here is a clear case of hive mind (from the critics) meeting Shyamalan fatigue. So let's bring some balance into the equation so you can make a proper choice about this weekend's theatrical offerings.
Behold, five nice things about The Last Airbender:
1. It opens nicely, getting right into the narrative
2. The CGI effects are solid
3. The scene where they "test" Aang is understated and effective
4. The mythology presented hints at a larger, deeper story
5. For the right demographic (children) the film works
Of course, it's not exactly a good movie either, so I've got to ding five factors as well. Sorry M. Night!
1. The 3-D is worthless, and not worth a $15 dollar ticket
2. It's not a fully told story, it's a brazen attempt to set up a sequel
3. There's a painfully forced romantic angle
4. It's an advertisement for Tai chi, meditation, reincarnation, and various other eastern philosophies
5. None of the villains are compelling
So there you have it. It's not fully miserable, but it's not great either. I could go either way with the recommendation, but see it in 2-D if you've got a little one in your life.
Note: I haven't seen the animated series, so I can't speak for fans of the original.

2. Andrew Garfield is the New Spider-Man.
Six months ago I tentatively endorsed Mr. Marc Webb as the new director for Spider-Man. Now I'm here to tell you I like his first big casting announcement, with Andrew Garfield as the new Peter Parker. While it's true that Tobey Maguire was already on his way to stardom when he took on the role of webslinger, having appeared in The Cider House Rules and Wonder Boys, I see plenty of potential in Andrew Garfield based on The Imaginarium of Doctor Parnassus alone. He's got a lightness about him, a vulnerability, and he comes off as an earnest guy. All three of these will be needed to make the new Spider-Man project soar.
Now then, the last piece of advice I gave Marc Webb was to avoid the singin' and dancin' nonsense that Raimi had injected into the franchise. Since he seems to be on the right track I'll offer up one more nugget of wisdom. Dump Aunt May. Every scene she's in drags like a flat tire. What, precisely, does she add to the movie universe? The coveted over-90 crowd? We need less Aunt May and much more Mary Jane. Make it so, Marc, and make us proud.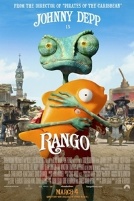 3. The State of The Animation Nation
I caught four animation trailers today, three of which look decent, and I figure you could use some knowledge. Here goes:
Rango: This one is voiced by John Depp (no, I won't call him Johnny, he's not six) and directed by Gore Verbinski of Pirates of the Caribbean fame. Sounds promising, no? Here's the trailer:
I really like the vibe of this trailer. Verbinski's work is always perfectly paced, never a dull moment, and it will be fascinating to see what he does with an animation project. Let's place this one in the "anticipated" category.
The news is not so good for Alpha and Omega, which looks dreadfully generic. Here it is:
First off, my limited knowledge of wolf packs indicates that they historically traveled in families, with parents functioning as "alphas" while the offspring were "betas" until they were old enough to start families of their own. Large wolf packs are a newly manufactured event, occurring in our national parks, though the "omega" wolf phenomenon does occur in groups larger than 20. But enough nature, the plot itself looks very bland, pure Saturday afternoon family fare. C'mon Lionsgate, if Pixar is the brand leader and Dreamworks is the beta then y'all need to step your game up to avoid omega status. Get on it.
Next up, Megamind!
Monsters vs. Aliens made a quiet $380 million in worldwide ticket sales and this looks to be of the same sensibility. Will Ferrell's voice over work feels spot on, and it's the rare anti-hero animation tale. I'll take it!
And finally, Despicable Me, which is out next weekend.
Hopefully this one was already on your list because I really dig the comedic method employed here. No, none of these trailers are of the Pixar-style "funny meets message" but at least three out of four look adult-friendly. It's a beautiful thing, this evolution of the animation genre, especially given most of the other genres are trending the other direction, toward vanilla and safe choices.
On that note, I hope you all have a great weekend, full of funny animated events!
Check out last week's Movie Musings here
Laremy is the lead critic and senior producer for a website named Film.com. He's also available on Twitter.