Movie Musings: Scarlett Johansson, '127 Hours' and Brenda Song

1. Scarlett Johansson Goes Alien!
Scarlett Johansson has made it somewhat apparent that she's not entirely interested in doing more heavy lifting anytime soon, and her recent decision to go the "sexy alien" route is par for the course. Consider the latest casting news that involves Johansson:"Johansson plays an alien on earth, disguised as the perfect aesthetic form of a mesmerizing woman. She scours remote highways and desolate scenery looking to use her greatest weapon to snare human prey — her voracious sexuality."
If I say "Va" is there some chance you'll join me in saying "Voom?"
Now then, Scar-JoI wasn't always this way, she seemed primed for an accolade-filled career. She tackled serious Streep-style drama, films like Lost in Translation, and Match Point, but lately she's shied away from such roles, opting for fluff instead (Iron Man 2, He's Just Not That Into You). There's nothing wrong with this, my guess is dramatic work pays the least, and I'm never going to fault a person trying to build up that nest egg.
So I approve of the latest decision, because if you're going to turn your back on the art-house scene you might as well take it to the limit. Once Esquire named her the "Sexiest Woman Alive" I suppose it was a matter of time. You can't escape expectations forever, eh?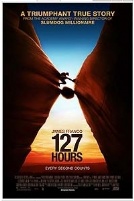 2. The Ten Things I Love About 127 Hours
127 Hours premiered in Los Angeles on Wednesday, and the film opens in NYC and LA this weekend. All of which means it is time to give an account of what really works with this film, because it's going to need all the help it can get. Here goes!
1. The Music
A.R. Rahman (Slumdog Millionaire) is back providing music, and the score elevates 127 Hours to great heights. The film is a visceral roller coaster, but Rahman and Boyle never let you get too down. Well played.
2. Jimmy Franco
James is tremendous throughout the 90-minute running time, he asked to physical work, emotional work, and he never falters. A definite Academy Award contender.
3. That Mara Girl
She's not in much of the film, but she's dynamic when she is on screen. Plus, I feel like we've got to push Kate's cause before her sister Rooney gets all the attention for the Dragon Tattoo series.
4. The Pacing
You hear the term "taut" thrown around a lot, but in this case it really fits. There's not a moment you're not fully invested in the proceedings. Director Danny Boyle has a rare hold on our culture's attention span.
5. The Message
I'm not about spoiling the film for you, but you should know this is a movie steeped in humanity. Brilliant.
6. The Intensity
You've heard the anecdotal reports that folks are passing out, and they are not unfounded. This is a film that evokes a reaction, I've seen it twice and it was just as harrowing the second time around … even when I already knew what was going to happen.
7. The Setting
It was hinted at in The Beach, but Boyle really loves filming people frolicking in nature. The Utah caverns are really shown off here, luscious landscapes splayed throughout, eye candy galore.
8. The Levity
You wouldn't guess there are many laughs here, it's a dramatic story, but there are a few instances where Franco and Boyle let you detach and chuckle for a few seconds. These moments are crucial to an audience's mental stability, and the film delivers them.
9. The Style
It seems that Danny Boyle is the only guy who has figured out you can use the entire screen to tell the story. This one really flows, utilizing modern cuts and triptychs in a manner you rarely see.
10. The Ambition
At first blush, this doesn't look like a story you'd build a Best Picture contender around. Maybe a movie of the week. But Danny Boyle executed his vision on a grand scale, and it really pays off. If you've loved his prior work you'll find yourself wondering if this is his best film yet.

3. Brenda Song, Academy Award Nominee?
Last year The Academy rewarded Sandra Bullock for tackling a tougher role, her work in The Blind Side earned her an Academy Award. She was given a big ol' "attagirl" because she strayed away from her normal choice, the forgettable romantic comedy (and everyone was somehow willing to overlook The Proposal).
Which brings me to Brenda Song, the gal from the hit Disney show Suite Life of Zack & Cody. On this show Ms. Song plays an extremely light composite of a ditz, she's "rich girl" London Tipton, and she's called upon whenever the script needs an easy laugh. Zack & Cody is, of course, awful for anyone but the intended audience, which seems to be about ten years old.
Now fast forward to The Social Network where Ms. Song plays Christy, the young Harvard student who becomes enamored with Facebook C.F.O. Eduardo Saverin. She has limited screentime, but there's one moment that really leaps out, a scene that anyone who has seen the movie can't help but remember, where she *spoiler alert* burns his clothes …right before asking him out again. It's a sublime performance, and a complete repudiation of her prior Disney work. As such, I say we throw her a nomination. I realize she hasn't paid the dues of Bullock, so she can't win the whole deal, but a courtesy supporting nomination would be in order, if only to encourage her evolution as an actress. As Brenda Song seems like she's about to rock, saluting her seems to be in order. Attagirl, Brenda!
Finally, I'd like to leave you with one of the funniest clips in sketch comedy history. This is from Mr. Show with David Cross, please to be enjoying!
On that note, I hope you have a weekend chocked full of great sketch comedy.
Check out last week's Movie Musings here
Laremy is the lead critic and senior producer for a website named Film.com. He's also available on Twitter.