Other 'Big Fat Greek' Things That the Sequel Can Be About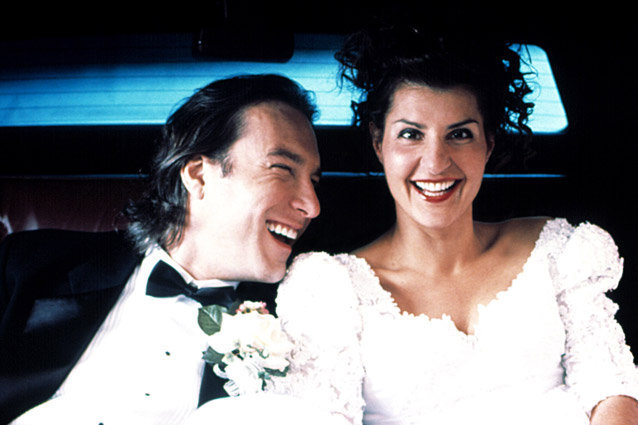 IFC Films via Everett Collection
If you take a gander at the top grossing films of 2002, you'll find a wholly unsurprising bunch: epic fantasy sequel — variety: Tolkien, epic fantasy sequel — variety: Potter, superhero movie, Star Wars, Will Smith, James Bond, alien thriller, sweeping animated schlock, and… wait a minute. A family-oriented culture clash rom-com written by and starring a complete unknown? Coming in ninth for the year and grossing almost $370 million? How the heck did My Big Fat Greek Wedding happen?

We'll never be quite sure, save to theorize that maybe, just maybe, it was pretty good, so people liked it (hogwash). But 12 years later, multihyphenate Nia Vardalos is attempting to recreate this unprecedented magic (via Variety) with a sequel to her breakout role/career ender. The questions ignite. Can Vardalos scale the same box office mountain in the post-Avengers era? And, more importantly, what exactly will My Big Fat Greequel be about?
My Big Fat Greek Marriage
We've already seen the Big Fat Greek Life shtick take form in three cameras, airing as a sitcom (with dry toast husband I-yan Mill-er recast) on CBS for exactly seven episodes. But that doesn't necessarily rule out the possibility of your typical ain't-marriage-hard! dramedy.
My Big Fat Greek Child
Vexing title aside, an ain't-parenting-hard! dramedy might be preferable.
My Big Fat Greek Divorce
Somber, yes, but it happens. Now that Toula is a single woman once again, it's time to hit the town with her promiscuous couisin.
My Big Fat Greek Vacation
You thought being married to Greece was tough, I-yan? What about uprooting altogether from your Chicago homestead and shoving off to Ioannina?
My Big Fat Greek Mortgage Crisis
This economy is effecting everyone! When the Portokaloses (Portokali?) have to sell their beloved eatery and get office jobs in the corporate world, they learn that maybe the non-Greek lifestyle isn't so bad after all.
My Big Fat Greek Music Career
Shifting focus to cousin Angelo (Joey Fatone), we watch Greek culture pervade the American zeitgeist as all the tweens go nuts for the latest pop band Nu-Sync.
My Big Fat Greek Scandal
The Greek ambassador is caught in bed with the First Lady, and only Toula Portokalos has the appropriate footing in both camps to save the world from international warfare.
My Big Fat Greek Apocalypse
Again offset by the mortgage crisis, Toula channels her people's history with various odysseys and illiads and hiding in wooden horses to win a nationwide battle royale for herself and her family.
My Big Fat Greek Dawn of Justice
When crime hits the Illinois suburbs, Toula organizes a team of Greek vigilantes to ensure that no crime goes unpunished. No spanakopita goes unfeta'd.
How I Met Your Big Fat Greek Mother
This time, we get the story from I-yan's point of view, going back through the decade before he met Toula, which he spent sleeping around in Chicago.
My Big Fat Greek Weeding
A simple 25-minute gardening video, hosted by the lovable John Corbett.
It seems only natural that My Big Fat Greek Wedding get a sequel, seeing as every other dominating property from 2002 is coming back into play. We're in the age of a second Spider-Man series, more Star Wars films, a follow-up Tolkien trilogy, a neverending supply of Bond movies and cartoon mayhem, and even more Rowling in the works. No telling how well My Big Fat Greek Funeral/Dance-Off/Temple of Doom will fare in the modern climate, but at least there's hope now for a Connie and Carla franchise.