'My Heart Will Go On': The Most Bizarre Covers of Celine Dion's 'Titanic' Hit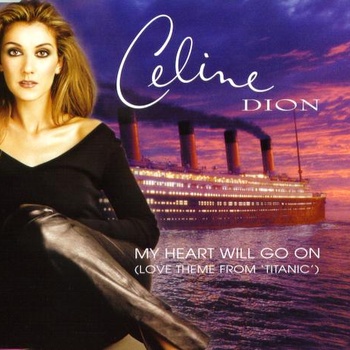 Anyone who survived a K – 12 education system during Titanic's theatrical run in 1997 can attest, even without statistical evidence, that Celine Dion's hit single "My Heart Will Go On" had an influence in the movie's box office success. The movie became the number one highest grossing film of all time (displaced in 2010 by director James Cameron's own creation, Avatar), and part of the phenomenon was clearly Dion's sappy, infectious, unavoidably heart-warming end credits tune. After the movie's debut, "My Heart Will Go On" was on 24-hour radio rotation, spinning continuously on every Walkman, the go-to high school musical audition number and the top choice for any love song cover album.
Or, perhaps, any cover album. Since it hit the top of the pop charts over a decade ago, "My Heart Will Go On" has been reinterpreted by many of music's greats … and many of music's … somethings. There are few who could be labeled too afraid to tackle Dion's seminal work, helping keep the classic cinematic carol afloat. Here are a few of the covers that ensure "My Heart Will Go On" will never be let go (and prepare you for its return, when Titanic 3D hits theaters April 3):
Neil Diamond's Gritty "My Heart Will Go On"
The recent Rock and Roll Hall of Famer is one of the most successful recording artists if the Billboard charts are to be believed. So it's no surprise that Diamond took a soulful stab at Dion's late '90s classic, bringing his signature smokey voice to the lead vocals. After five decades in the business, Diamond's version is a reminder of the artists longevity, a way of lyrically telling listeners, "yeah, even though Will Ferrell tried to convince you I once hit a kid with my car, I'm still the man."
New Found Glory's Punked Out "My Heart Will Go On"
Either paying homage to the year of their formation (the pop punk band formed in '97) or admitting through song how much they frickin' love Titanic, New Found Glory covered the single for their album From the Screen to Your Stereo. The album was a definitive list of movie tunes, featuring tracks from That Thing You Do to The Goonies to The Neverending Story. But "My Heart Will Go On" shows the band's softer side — as opposed to their "hardcore" edge.
Vicky Leandros' Extremely German "My Heart Will Go On"
The Greek singer moved to Germany early in her career and found her biggest success to date with a cover of Dion's Titanic anthem. "Weil mein Herz dich nie mehr vergisst" may not have the sensual elegance Dion's well-known lyrics when attempted in English, but Leandros interpretation proves that not all German phrasing needs to remind us of Indiana Jones and the Last Crusade.
Blondie's '80s Alternative "My Heart Will Go On"
If there was anyone who was going to give Titanic's power ballad a swift kick in the butt, it was going to be Debbie Harry. Unlike Dion, the Blondie lead singer actually made the jump to the big screen during her music career, co-starring in films like Videodrome, Hairspray and Cop Land, giving her the right (see: unspoken Hollywood law) to take over any soundtrack song and cover it the way she'd like. In this case, rockin'.
The Lettermen's Even-More-Grandma-Appropriate "My Heart Will Go On"
Vocal trios were all the rage in 1959, but The Lettermen lasted long enough in the music biz to capitalize on Titanic fever with their own version of "My Heart Will Go On." The cover didn't break out on the radio, reserved mostly for The Lettermen's road show, but if the gals down at the malt shop heard this single, they'd be swooning up a storm!
Deja Vu and Tasmin's Eurodance Remix "My Heart Will Go On"
Those looking to get their humps on in da club to a James Horner penned song should look no further than this cover of "My Heart Will Go On." Deja Vu provide the beats while singer Tasmin soups up the vocals, in the only version appropriate for Titanic's famed 3rd class dance off.
Kenny G's Saxophoned In "My Heart Will Go On"
Elevators everywhere gained their own rendition of the Oscar-winning number courtesy of smoother-than-smooth jazz artist Kenny G. Celine Dion's original version has a lot of power and soul, but Kenny G trumps it on every level, thanks to the power of brass.
This Committed Little Girl's "My Heart Will Go On"
If there's any real sign that "My Heart Will Go On" isn't going anywhere, it's the world of YouTube covers. Like a pop song life support system, twelve-year-old girls with antsy stage mothers continue to fuel the nostalgic fire with theatrical, mildly-terrifying renditions of the infamous tune.
Find Matt Patches directly on Twitter @misterpatches and remember to follow @Hollywood_com!
More:
Kate Winslet Calls Her Titanic Performance 'Awful'
James Cameron Hits Deepest Point in the Ocean, Titanic Jokes Too Easy