Hand-Picked Flix: Watch 'Safety not Guaranteed' for Your Lazy Sunday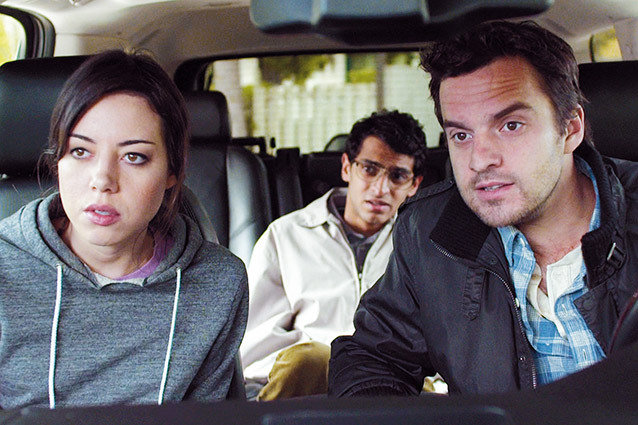 FilmDistrict
Smack dab in the middle of your exciting weekend forays and your agonizing return to the work week, Sundays are best spend lazily. Even the movies you watch on Sundays should be slow, soft, and conducive to your passion for midday naps. Luckily, a whole mess of indie gems fit this description, and this week for Lazy Sundays, Netflix Hand-Picked Flix recommends Safety Not Guaranteed.
Scientific mastermind or bona fide crazy person? That's the question at the heart of Sundance sensation Safety Not Guaranteed. When an odd classified ad requesting a companion for a time-travel mission lands in the hands of magazine editor Jeff (Jake Johnson), the journalist and his intern Darius (Aubrey Plaza) move to investigate the inquiry for a possible story. The trail ends at a lowly stock clerk named Kevin (Mark Duplass) who believes he's unlocked the secrets of time-travel in his shed in the woods. Darius goes undercover for the magazine and pretends to be on board for Kevin's mission, but after training with Kevin for the trip and dodging what looks to be G-Men trying to take control of the experiment, Darius starts to wonder if the seemingly dim-witted Kevin might really be onto something.
Safety Not Guaranteed is a crowdpleaser. It's wonderfully absurd, and despite its crazy premise, the film manages to be a romantic and wildly funny indie that's filled with some great and memorable character work. Duplass infuses Kevin with a vulnerability and dogged determination, while Plaza's trademark detachment works wonders.  It's really uplifting, and the central mystery of whether Kevin is an off-kilter lunatic or scientific genius is one that plays it's final hand expertly. 
You can stream Safety Not Guaranteed on Netflix, and make sure to check back tomorrow for our recommendations for the perfect Case of the Mondays movie.