New 'Dr. Jekyll and Mr. Hyde' Movie in the Works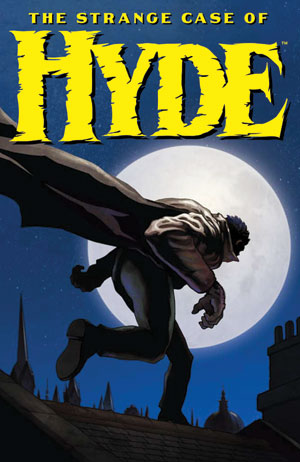 Robert Louis Stevenson's novel The Strange Case of Dr. Jekyll and Mr. Hyde has been the inspiration for dozens of stage, film, and radio adaptations since its publication in 1886.  The latest addition to the list is The Strange Case of Hyde, an adaptation based on the comic book by Cole Haddon.  Skydance Productions, Dark Horse Entertainment, and producer Mark Gordon (2012) are onboard to develop the property.
"Mr. Hyde is one of my favorite literary villains, but he hasn't been given his due on the big screen for the better part of a century," said Haddon, who is also set to write the film's screenplay.  "I'm excited to be playing a part in restoring him to his proper place in the pantheon of movie monsters: at the top of the food chain."
Unlike in other versions of the 124-year-old tale, Hyde himself will be more of an anti-hero than an antagonist, with his split-personality psychopathology the focus of the Victorian-era story.  The film is being billed as an action-adventure, with Hyde ultimately going head-to-head with an historical villain… perhaps Jack the Ripper?
Of course, there's no guarantee that The Strange Case of Hyde will actually get made into a movie.  There are a number of other Hyde-inspired projects in the works, including Waterfoot Films' independent Strange Case of Dr. Jekyll, set in modern times; Jekyll, with Keanu Reeves (which may no longer be happening); and Guillermo Del Toro has expressed interest as well in his own vision for Dr. Jekyll and Mr. Hyde. 
Source: THR