New 'Hunger Games: Catching Fire' Set Pics: Are They What You Imagined?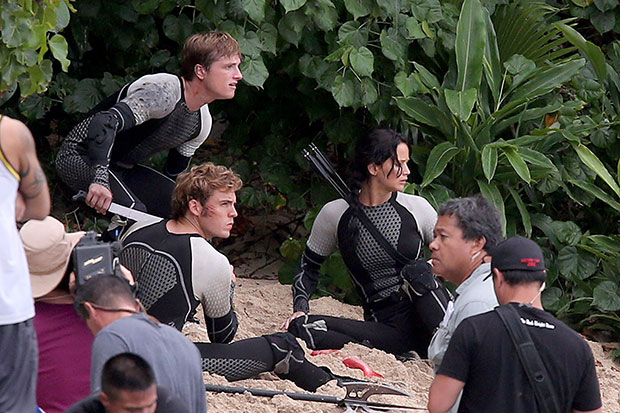 Yesterday, the first set photos of Jennifer Lawrence, Josh Hutcherson, and newcomer Sam Claflin (playing the much-loved District 4 combatant Finnick Odair) in The Hunger Games: Catching Fire revealed the Oceanic setting for the Quarter Quell, the 75th anniversary games that pulls Katniss and Peeta back into the titular death match.
Now additional pics have arrived from the wire, giving us a better look at the new costumes and revealing a fun moment fans may recall from the book. Below, you'll see Finnick's expert fishing skills paying off the the hungry Katniss. More curious is the second picture, where the trio clearly spots something off camera. Johanna Mason arrives with Wiress and Beetee, perhaps? We've yet to see Jena Malone decked out in her Johanna costume or Jeffrey Wright in fighting mode as Beetee, but judging from these set pics, their scenes can't be far off.
So are the filmmakers getting it right? With snapshots pulling back the curtain on Francis Lawrence's sequel, the director's vision and deviations from the original are becoming clearer. Finnick is no longer a conjuration of the imagination — he's a heartthrob with tousled hair. So does Catching Fire look the way you thought it would? Take our poll then voice your own thoughts in the comments!
The Hunger Games: Catching Fire arrives in theaters Nov. 22, 2013.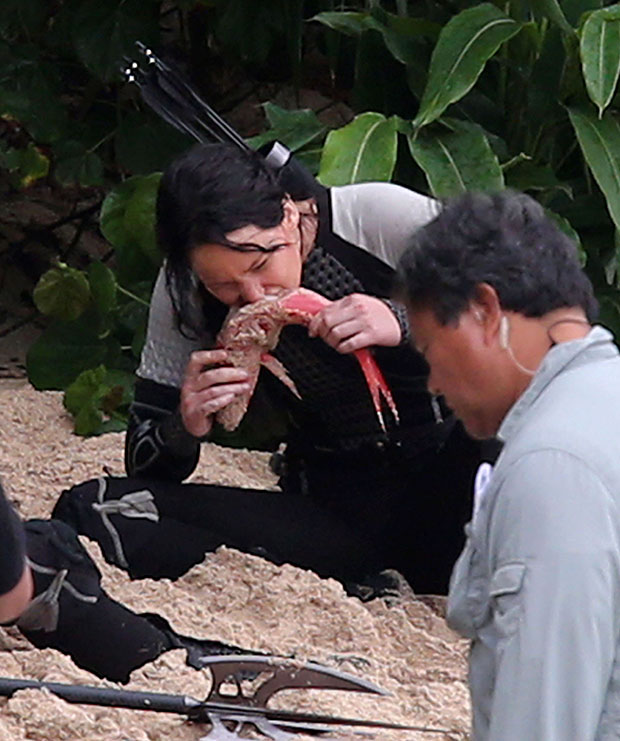 <a href="http://polldaddy.com/poll/6725665/">Does 'Hunger Games: Catching Fire' Look How You Imagined It?</a>
Follow Matt Patches on Twitter @misterpatches
[Photo Credit: FameFlynet]
More:
'The Hunger Games: Catching Fire' First Look: The Quarter Quell Begins! — PICS
New 'The Hunger Games: Catching Fire' Poster will Spark Your Excitement — POSTER
'Hunger Games: Catching Fire': Meet All the New Cast Members
You Might Also Like:

Best Nude Scenes of 2012 — PICS