Say Hello to Benedict Cumberbatch in the New 'The Hobbit: The Desolation Of Smaug' Trailer
After hearing just a few seconds of Benedict Cumberbatch's evil dragon voice in the new trailer for The Hobbit: The Desolation Of Smaug, it already looks like the second Hobbit installment is going to be brimming with adventure, which should make the naysayers of the the less-than-action-packed The Hobbit: An Unexpected Journey quite happy.
This second preview from Warner Bros. features Legolas (Orlando Bloom) masterfully swinging his sword and crushing on arrow-wielding Tauriel (Evangeline Lilly), Thranduil (Lee Pace) and Gandolf (Ian McKellen) spewing advice, Thorin (Richard Armitage) being stubborn, and most importantly, the villainous voice of Smaug (Benedict Cumberbatch) beckoning the brave Bilbo (Martin Freeman) to come out to play (BBC's Sherlock flashbacks, anyone?).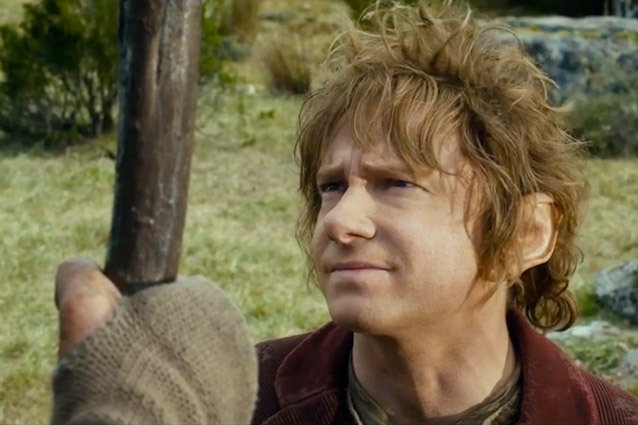 New Line Cinema
The Desolation Of Smaug follows the dwarves, Bilbo, and Gandalf as they continue their journey to take back their gold from the dragon, Smaug. The film hits theaters on Dec. 13.
The Hobbit: There and Back Again, the third installment in Peter Jackson's prequel trilogy, is expected to hit theaters on Dec. 17, 2014.
More:
The Dwarves Make a Workout Video in Latest 'Hobbit' Production Diary
First Trailer for 'The Hobbit: The Desolation of Smaug' is Elf-Tastically Exciting
Bilbo Reaches the Lonely Mountain in 'The Hobbit: The Desolation of Smaug' Poster
---
From Our Partners:

A Complete History Of Twerking (1993-2013) (Vh1)


15 Stars Share Secrets of their Sex Lives (Celebuzz)