So You Think You Have What It Takes To Be in a Nicholas Sparks Movie? — EXCLUSIVE PIC
Appearing in a big screen adaptation of one of Nicholas Sparks' similarly-themed books may seem like easy work (sexy co-stars you'll inevitably lock lips with on-screen, scenic bay locations along the east coast, dialogue that is not terribly difficult to remember) but, in reality, it's anything but. 
RELATED: Nicholas Sparks' Mega-Mansion: See The House That Gosling Built
There are harsh conditions (if you're in a Nicholas Sparks story, it is going to rain), your character might croak before the end credits (if you're in a Nicholas Sparks story, one of you is going to die, likely in a tragic fashion), and you'd better know how to work a rowboat or else you're going to be stranded on that pretty bay.
RELATED: Julianne Hough Joins Nicholas Sparks Film: Ranking the Tear Factor
See? It's not all pensive walks on the beach and adult contemporary soundtracks, after all.
Okay, it totally is, but with this weekend's release of Safe Haven starring Josh Duhamel and Julianne Hough, we imagined what a casting call for any Sparks movie (The Notebook, Dear John, and Nights in Rodanthe all followed some pretty similar pedigrees) would look like. Check out Hollywood.com's exclusive rendering  of a casting call sheet and find out if you have what it takes to appear in a Nicholas Sparks adaptation: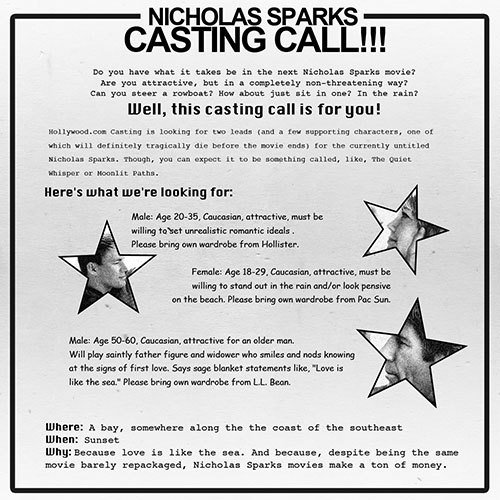 RELATED: 'Safe Haven' Trailer Is Every Nicholas Sparks Movie
[Photo credit: Hollywood.com]
---
From Our Partners:

Grammys: 11 Most Memorable Gifs (Celebuzz)

20 Worst Outfits at the Grammys (Vh1)