Nicholas Sparks or Not? Can You Tell These Romantic Movies Apart? – QUIZ
So, you're watching a romantic movie. Does this movie have a boat? Is one of the characters terminally ill? Do you know from Scene 1 that you'll be crying by the end of the movie? Does everything work out in favor of romance in a fashion so unrealistic, you wonder if there's something you missed? Do you feel emotionally manipulated at the end?
Then you might be watching a Nicholas Sparks movie.
RELATED: Do You Have What It Takes to Star in a Nicholas Sparks Movie?
Now, it's a guilty pleasure we're all guilty of, but it's not hard to see the signs. When you sit down for a Nicholas Sparks movie, you know what's coming. But how well do you know? We've laid out a few movie details for you to test your Sparksian knowledge. So without further ado:
Is this a Nicholas Sparks movie?
1.The Runaway and the Widower?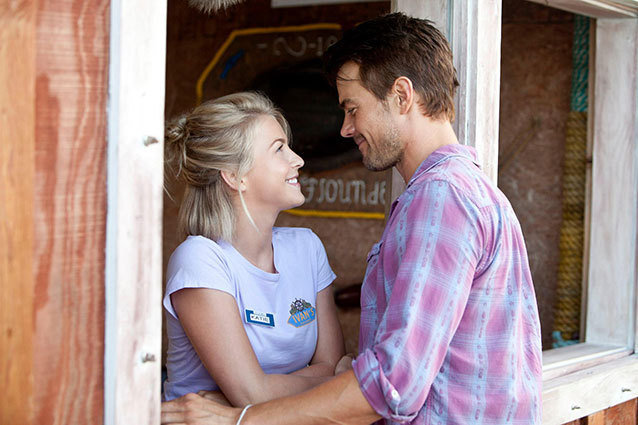 RELATED: See Nicholas Sparks' Mansion: The House That Gosling Built
Stars: Julianne Hough, Josh Duhamel
Filming Locations: North Carolina
Couple Stats: Katie is a "mysterious stranger" living a transient life, Alex is a widower and he's super great.
Over-involved parents: Not so much, but the guy's got kids.
The Story: She's anti-attachment or staying in one place because she's running from a man in her past, Alex tries to be her shelter.
Potential for tear-jerking: It comes out Friday, but in the meantime just know it involves deceased wives, letters, and potentially fire.
Is this a Nicholas Sparks movie?



Answer: Yep! Safe Haven is from the mind of Mr. Sparks.

RELATED: Watch the 'Safe Haven' Trailer

2. Love in Cape Cod?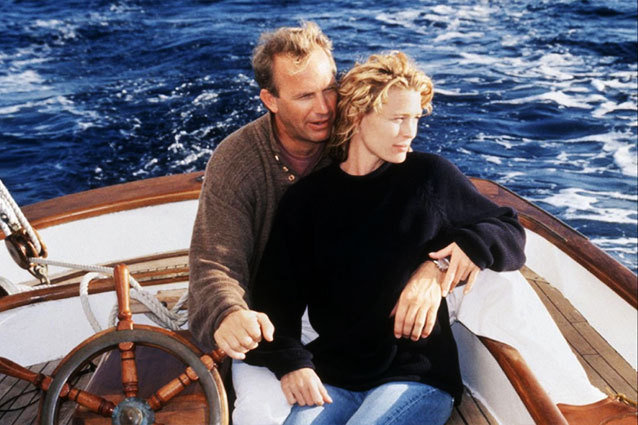 Stars: Kevin Costner, Robin Wright Penn, and Paul Newman

Filming locations: Maine, Chicago, and Wilmington, North Carolina

Couple Stats: Theresa is a former reporter, Garret is a widower with a boat named Happenstance.

Over-involved parents: Yep (but it's Paul Newman, so how bad could it be?)

The Story: She finds messages in a bottle, he wrote them to his dead wife, he and Theresa fall in love.

Turning Point: Garret finds the letters Theresa has been hiding and angrily confronts her.

Tear-jerking outcome: Garret's dad tells Theresa, a year after their fight, that Garret died at sea… while trying to save someone… and that he wrote his dead wife a new letter… and it says he loved Theresa.

Is this a Nicholas Sparks movie?



Answer: Yes! Message in a Bottle was written by Sparks.

RELATED: Ranking the Tear Factor of Julianne Hough's New Nicholas Sparks Role

3. Love, interrupted?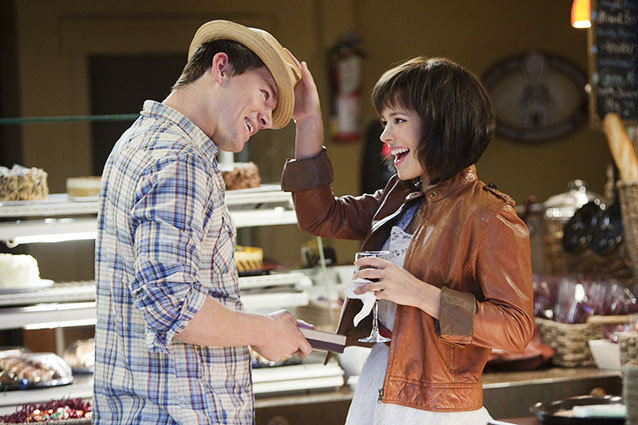 Stars: Channing Tatum, Rachel McAdams

Filming Locations: Chicago

Couple Stats: Artist Paige and Recording studio owner Leo Collins are married, but she loses her memory after a car accident.

Over-involved parents: Yep (and they want amnesiac Paige to dump Leo for her rich high school boyfriend).

The Story: Leo works tirelessly to get his ansesia-stricken wife to remember him while her parents use it as an opportunity to put her back on her path to boring lawyerhood. 

Turning Point: After making progress to win Paige back, Leo punches her ex boyfriend and then officially divorces her.

Tear-jerking outcome: They end up together, but it's not the same, because Paige never regains the memory of her past life with Leo.

Is this a Nicholas Sparks movie?



Answer: Nope! The Vow is based on a true story, not a Sparks book.

4. One month only?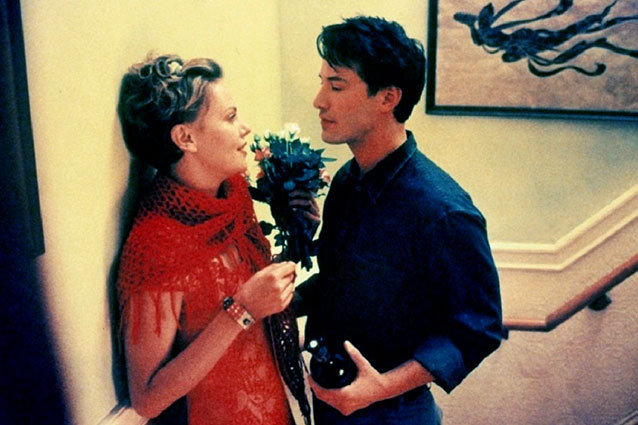 Stars: Charlize Theron, Keanu Reeves

Filming Locations: San Francisco

Couple Stats: Sara is a mysterious free spirit, Nelson is a guy who just lost his job and his girlfriend so he's got lots of free time.

Over-involved parents: Nope, but Keanu's Nelson does befriend a fatherless kid named Abner.

The Story: Two young, wacky San Fransisco lovers spend one Sweet November together.

Turning point: Nelson spends most of November in Sara's apartment, falling in love with her, but when he decides he's going to marry her, he finds out she has terminal cancer.

Tear-jerking outcome: Sara leaves Nelson alone so she can go die in peace with her family, and Keanu is left to cry alone in the park where they went on their first date.

Is this a Nicholas Sparks movie?



Answer: Nope! But man, does Sweet November sound like one.

5. Love letters, not bound by time or space?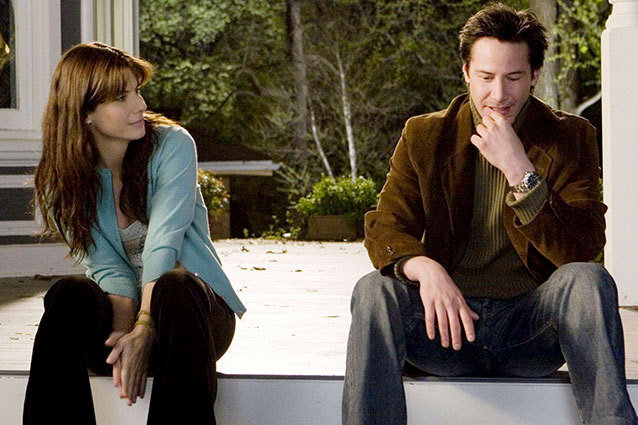 Stars: Sandra Bullock, Keanu Reeves

Filming locations: Chicago, other parts of Illinois

Couple Stats: Kate is a doctor living in 2006 who leaves a letter in her the mailbox of the house she's leaving, Alex is an architect living in 2004 who somehow gets that letter in 2004 because time travel, guys.

The Story: Their letters travel through time. Because magical lake house. And time travel. And love. Stop asking questions, that will just ruin it. Gosh.

Turning Point: Kate learns that Alex stood her up for their time travel-proof date, because he's the guy she saw get hit by a car and he's now dead.

Tear-jerking outcome: She writes him a last-minute time travelin' letter and tells him to come to the lake house instead, which means he's undead now and they get to kiss and live at the lake.

Is this a Nicholas Sparks movie?



Answer: Nope. And thank goodness Sparks isn't responsible for The Lake House, or we'd think he's losing his touch. Or whatever he has.

6. The Ballad of Liam and Miley?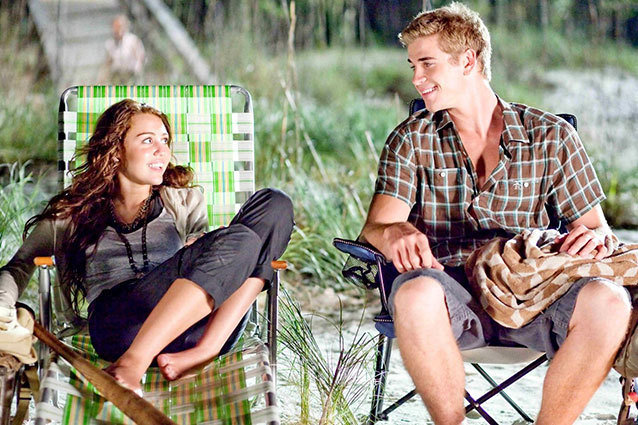 Stars: Miley Cyrus, Liam Hemsworth, Greg Kinnear, Kelly Preston

Filming locations: Savannah, Georgia

Couple stats: Ronnie is a rebellious young piano prodigy who refuses to go to Julliard and is sent to learn some manners by living with her estranged father, Will is a perfect popular guy who volunteers and he doesn't care about Ronnie's arrest (Too much information too fast? Sorry.).

The Story: Ronnie's a problem child and her mother sends her away from New York to get wholesome-ized with her father in Georgia, but she's an immediate out-case there. Somehow, the popular guy takes an interest in her…

Turning Point: Will lets Ronnie's cancer-stricken father be blamed for burning down the church when he knows it was his friend.

Tear-jerking outcome: Ronnie finishes writing her dad's composition as he dies, then plays it for the town, including Will who really likes it and who tells her he's going to Columbia for college so he can be with her. But he only let a crime be blamed on your sick dad, you should totally get back together with him, Miley.

Is this a Nicholas Sparks movie?

Answer: Yep. The Last Song is something only Nicholas Sparks could give us.

Follow Kelsea on Twitter @KelseaStahler

[Photo Credit: Relativity, Screen Gems, Warner Bros (3), Walt Disney Pictures]
---
From Our Partners:

40 Hottest Celeb Twitpics of the Month (Vh1)

'Sports Illustrated' Swimsuit Issue: A Visual History (Celebuzz)