Nicholas Sparks Picks Matt Damon to Star in a Biopic Based on His Life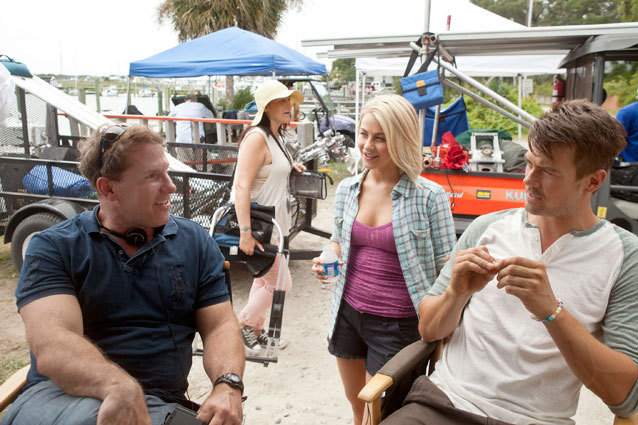 With 17 books already written and another one — The Longest Ride — scheduled to be released in September, it would seem like romance novelist Nicholas Sparks wouldn't have much time to do anything other than write. But, he earned his first official producing credit in February when his book-turned-movie Safe Haven arrived on the big screen. 
"It was a lot of fun," Sparks tells Hollywood.com. "I've always been involved in the development process and the selection of the screenwriter and the director and had my hand in casting and all that, so it was fun."
With Safe Haven, Sparks was quite proud of his leading actor Josh Duhamel's performance of his character Alex. "I thought he did an amazing job," he says. "It was tough character to play, and he really brought the character's emotions to life with every scene that he was in. He really tried to bring a complexity to the character so he wouldn't just be a boring suburban dad. He really tried to make this character come alive, and I thought he did an amazing job."
Julianne Hough did pretty decent as Katie too. "The key is to really let the professionals do their job," Sparks says. "I thought she did an extraordinary job as well."
Sparks has seen pretty astounding performances from actors in some of his past movies. "I think everyone would admit that there is a little bit of chemistry magic in The Notebook," he says. "It just really came to life on screen. And way back when, Rachel [McAdams] and Ryan [Gosling] were very new and hardly anybody knew who they were. I thought that they did a terrific job."
Yes, Sparks has worked with some pretty talented actors. In fact, he has even written roles in the past with a particular actor or actress in mind for a character. "I did it for The Last Song because I knew that if that was going to be a film, that Miley [Cyrus] was going to be in it," he says.
But more than writing about the characters, Sparks finds coming up with a new idea for an actual story the most challenging aspect of his writing. "It's the creation or the conception of a new story," he says. "We all know what's going to happen: You're going to have a couple fall in love. We all know that's part of what I do. It will be set in North Carolina. We understand that. But how do you write something so utterly different? How do you write something that if you had read back-to-back Safe Haven and The Notebook, you would not have thought the same author wrote them? Even though they had some certain familiarities, [it was] different structure, lengths, tone, point of view, character dilemmas [that set them apart]. Everything was different."
In Safe Haven, Sparks attempted to vary this work by including a plot twist involving a ghost. "I got a lot of people tweeting, 'Wow, I didn't see that coming,' 'What a terrific ending,' and 'Caught me off-guard,'" he says. "Most people liked it."
Sparks has made a great career as a best-selling romance novelist and as a successful screenwriter. So, like other great authors, one day, it might be interesting to see his own life turned into a big screen script. And if that does happen, Sparks would love to see Matt Damon cast as himself for the starring role. "He's a terrific performer," Sparks says. "He's about my age, and he's about my height and everything." Sparks wants "someone high quality" and of course Damon is the perfect choice given that criteria.
Safe Haven is now available on Blu-ray, DVD, and Digital HD as of Tuesday. Plus, stay tuned for Sparks' upcoming book, The Longest Ride, which is scheduled to be released in September.
Follow Lindsey on Twitter @LDiMat.
More:
Nicholas Sparks Thoughts on Writing a Gay Romance Novel
Rowboats: Nicholas Sparks Perfect Metaphor for Love
A Look at Nicholas Sparks' Mega Mansion
---
From Our Partners:


What Happened to 33 Child Stars (Celebuzz)


40 Most Revealing See-Through Red Carpet Looks (Vh1)