Compose Yourself! M83's 'Oblivion' Score and a History of Pop Artists Turned Composers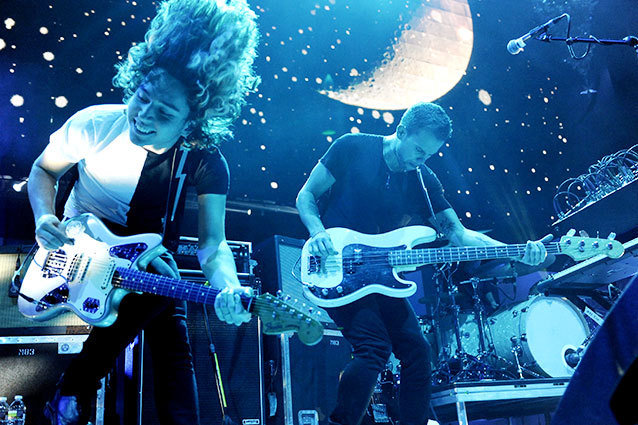 Everybody wants to break into the movies. Broadway actors, television directors, drama club lighting designers. Even musicians. Many a pop artist made famous by the record business has hitched his or her wagon to a big screen production, trying hand at the art of score composition. Tom Cruise's upcoming sci-fi venture Oblivion will exhibit the stylings of musicians M83 — the French electronic duo, comprised of Anthony Gonzalez and Nicolas Fromageau, has chiseled a slab of original music for Universal's post-apocalyptic movie, including the below track "All I Heard," featuring vocals by Susanne Sundfør.
While the realms of film and music often work in tandem, this sort of endeavor represents a degree of cinematic investment a few notches higher than your standard soundtrack contribution. A movie's original score is a whole separate animal from its lineup of adopted songs. When an artist takes on the duties of a composer, he embraces a project beyond a mere piece of music — he is crafting the atmosphere of a larger, multifaceted story. As such, he needs to enter a cinematic mentality, to think not just as a songwriter but as a filmmaker as well.
RELATED: Vanessa Hudgens' 'Spring Breakers'-Inspired Song Is a Hot Mess
This won't be the first movie venture for M83. Gonzalez collaborated with Daft Punk on another Joseph Kosinski film, 2010's TRON: Legacy.
But the feat is not specific to these subjects. The likes of David Bowie, Mick Jagger, Stewart Copeland, Trent Reznor, Beck, Marilyn Manson, and many others have braved the waters of score creation. Take a listen…
David Bowie: Composer for the 1986 film Labyrinth
Mick Jagger: Composer for the 1966 film Alfie
Stewart Copeland: Composer for the 1987 film Wall Street
Trent Reznor: Composer for the 2011 film The Girl with the Dragon Tattoo
Beck: Composer for the 2010 film Scott Pilgrim Vs. the World
RELATED: 'Good Vibrations' Is a Heartfelt Ode to the Power of Music
Marilyn Manson: Composer for the 2002 film Resident Evil 
Neil Diamond: Composer for the 1973 film Jonathan Livingston Seagull
Los Lobos: Composer for the 1995 film Desperado
Queen: Composer for the 1980 film Flash Gordon
Peter Gabriel: Composer for the 1988 film The Last Temptation of Christ
Follow Michael Arbeiter on Twitter @MichaelArbeiter
[Photo Credit: Tim Mosenfelder/Getty Images]
---
You Might Also Like:


15 Oscar-Winning Nude Scenes


10 Insane 'Star Wars' Moments You Didn't Notice