Name That Oscar Tune: 9 Songs Wrongly Snubbed By The Academy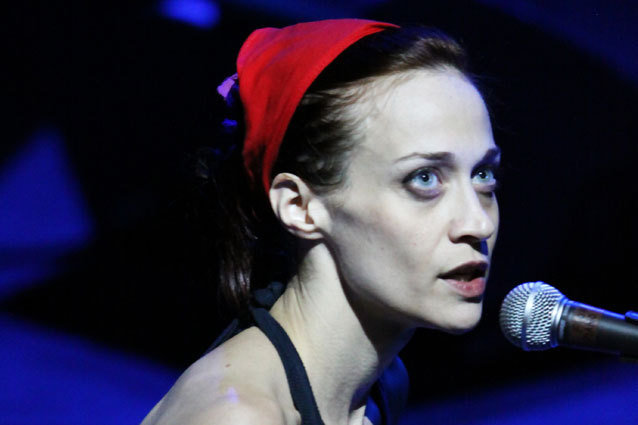 There's a scene towards the latter part of Judd Apatow's mercilessly long This Is 40 that makes having endured the needlessly self-indulgent worthwhile. When Paul Rudd's emotionally crumbling Pete makes a great escape from his house via his bike, there's an urgency, an actual gut punch of feeling that had been missing from the film until that point. That's because, at that very moment, Fiona Apple's knock-down, drag-out song "Dull Tool" kicks in. 
RELATED: 2013 Oscar Nominations: Full List Here!
While the movie actually has an incredibly well-rounded soundtrack, it's Apple's "Dull Tool" that stands out among the bunch. Not only was it the perfect song for that moment (the track's pacing matches Rudd's frantic pedaling and her brilliantly cutting lyrics are exactly what you'd want to listen to after having a fight with your significant other) but it was one of the most perfect songs to be featured in a film in 2012. So why in the hell isn't it nominated for an Academy Award in the Best Original Song? Doesn't the Academy realize what a spectacular acceptance speech Apple would make?
Is it because she says "f**k" so much in it and that would make for a live performance nightmare, considering they are thankfully, doing them again after last year's ridiculous hiatus? Or because the Academy has a history of inexplicably snubbing some seriously great music? (Don't even get me started on the unforgivable omissions of The Beasts of the Southern Wild in the Best Original Score category). Probably a little bit from column A and a little bit from column B? 
RELATED: Oscar Nominations 2013: Surprises and Snubs
Sure, Adele's Skyfall theme "Skyfall" is a shoo-in (and rightly so), but Apple's raw "Dull Tool" from This is 40 being slighted by the forgettable "Pi's Lullaby" from Life of Pi or the silly "Everybody Needs a Best Friend" from Ted is a misstep and a missed opportunity. (As was leaving out Matthew McConaughey's inspired "Ladies of Tampa" from Magic Mike, but I digress.) Listen to the song here and decide for yourself: 
Of course, Apple's "Dull Tool" is hardly the first song in Oscar history to be foolishly overlooked by the Academy. Here's some other tunes that were not only perfect for the movies they were in, but damn great songs on their own. 
"Stayin' Alive" by the Bee Gees from Saturday Night Fever: One of the most iconic movie songs during one of the most iconic movie scenes? Even more baffling, the disco classic won the Golden Globe for Best Original Score.
"Theme from New York, New York" by Kander and Ebb for New York, New York: Is there a song more synonymous with that Martin Scorsese film, let alone the city of New York itself? Originally written for and performed by Liza Minnelli, Frank Sinatra's version is a music staple. 
"Kiss From a Rose" by Seal from Batman Forever: Yes, Seal's ballad was released as a single before it became the "love theme" to Batman Forever, but songs released before becoming a soundtrack theme have won before. (See: "Falling Slowly" from Once). Plus, this was one of the best songs of the 90s and remains a karaoke staple and pop culture fixation to this day. 
"Don't You (Forget About Me) is as timeless as The Breakfast Club itself (see: the homage in Pitch Perfect) and much like the musical symmetry in Saturday Night Fever, the song, which is great on its own, is forever associated with the opening and closing credits of the John Hughes classic. 
Honorable mentions: "I Believe I Can Fly"  from Space Jam, "Diamonds Are Forever" from Diamonds Are Forever, "St. Elmo's Fire (Man in Motion)" from St. Elmo's Fire, and "Goodbye Horses" from Silence of the Lambs and Married to the Mob. 
RELATED: Hollywood.com Picks the 14 Best Songs of 2012
[Photo credit: Robb Cohen/AP]
---
From Our Partners:


25 Most Scandalous Celeb Twitpics (Vh1)


33 Child Stars: Where Are They Now? (Celebuzz)
---
Oscars 2013 Special Coverage
---
• We Predict the Winners: Do You Agree?
• 15 Most Iconic Red Carpet Dresses
• The Worst Best Picture Winner Ever
• Oscar's Problem With Pretty Boys
• Why Stars Should Fear Seth MacFarlane
• 10 TV Stars You Never Knew Won Oscars
• The Winner, According to You